Teachers ratify deal ending strike in Tacoma, Washington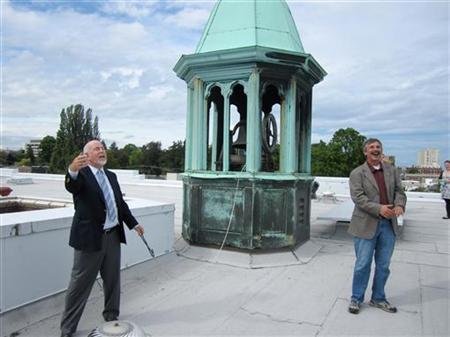 By Nicole Neroulias
TACOMA, Wash (Reuters) - Jubilant teachers in Washington state's third-largest school district voted overwhelmingly on Thursday to ratify a contract deal that ended their weeklong strike and staved off proposed pay cuts.
The settlement was reached on Wednesday night after seven hours of intense negotiations mediated by Governor Christine Gregoire, who had summoned the two sides to her office in the state capital, Olympia, for a last-ditch round of bargaining.
The new three-year labor deal keeps previous class-size limits intact -- teachers had sought to tighten them -- but holds the line against salary cuts and contains a compromise on the thorny issues of evaluations, seniority and staffing decisions.
The accord also includes an amnesty clause guaranteeing that union members' participation in the strike, which kept 28,700 students at home for eight school days, would not be a factor in staff performance appraisals.
The district's 57 schools will reopen their doors on Friday for the first time since some 1,900 teachers walked off the job on September 13, staying on picket lines in defiance of a back-to-work court order issued the following day.
Whether contempt-of-court citations will now be dropped is technically up to the judge, but district officials said they consider the issue closed. Days lost due to the strike will be made up later in the year.
The mood was festive as members of the Tacoma Education Association gathered in a high school gymnasium to vote on the settlement, which was approved by 98.9 percent of the 1,683 votes cast, the union said.
"I'm excited to get back to work, and I'm excited for my daughter because she gets to go back to school," said Steve Jacobson, 35, a high school health and physical education teacher, who stood with his 4-year-old daughter, Bianca, perched on his shoulders.
"I have never been more proud to be a teacher," union president Andy Coons said. "This was not an easy process, but ... we did what had to be done and we did it together."
District officials appeared relieved. Tacoma Superintendent Art Jarvis and school board President Kurt Miller rang the ceremonial bell atop the district's central office for the first time in nearly 10 years.
"We call all the children back to school," Jarvis declared as the bell echoed throughout downtown.
Labor negotiations began May 31 but hit a stalemate about a week and a half after the previous contract expired September 1.
The main stumbling block, the union said, was a district demand to alter staffing policies so that decisions on teacher reassignments between schools were based on criteria other than seniority, such as performance evaluations.
In the end, the two sides agreed to establish a joint panel of teachers and school officials to set new teacher evaluation standards that would be used in conjunction with seniority to make future staffing reassignments.
The teachers dropped demands for lower overall ratios of students to teachers, and the district abandoned its proposal to cut salaries. Elementary school teachers won a hard cap on class size, but teachers lost one paid training day.
During talks, the district said it would have to spend down its reserve funds by $15.4 million this year to avoid deeper cuts in staffing and student programs after being forced to eliminate about 100 jobs and close two elementary schools.
The last time Tacoma teachers went on strike was in 1978, a walkout that lasted 29 days.
(Additional reporting by Laura L. Myers. Writing by Steve Gorman; Editing by Cynthia Johnston)
Editor's Picks
Contract deal ends teachers strike in Tacoma, Washington

SEATTLE (Reuters) - Union leaders for 1,900 striking teachers in Tacoma, Washington, ...

Defiant teachers in Tacoma, Washington, strike for sixth day

SEATTLE (Reuters) - Striking teachers in Tacoma, Washington, walked picket lines for ...

Washington governor intervenes in teachers strike

SEATTLE (Reuters) - Summoned to Washington state's capital on Wednesday, union leaders ...

Washington governor intervenes in teachers strike

SEATTLE (Reuters) - Summoned to Washington state's capital on Wednesday, union leaders ...