London picks color, bold designs for next spring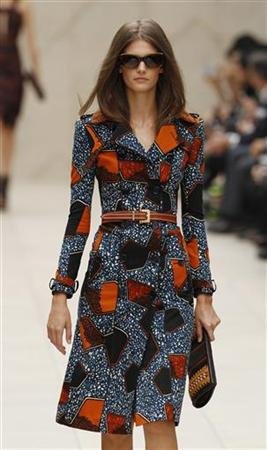 "Very, very sensual, glamorous, quite high octane glamour, and it's based on Grace Kelly from High Society but with a bit of Scarface Michelle Pfeiffer to sort of vamp it up a bit, and... it's polished," she told Reuters.
Temperley fans include Britain's Duchess of Cambridge, Kate Middleton, and her younger sister Pippa, who watched the show from the front row.
Matthew Williamson, known for his use of color, print and embellishment, presented jumpsuits, silk trousers and shirts and knits with beaded necklines. Watched by actress Sienna Miller, the show also featured a saffron gown with intricate torso detailing and a flame-orange train. Williamson also presented shoes from his collaboration with Charlotte Olympia, with models stepping out in colorful pumps and open-toe sandals with Perspex heels.
Issa London and Mulberry also had colorful, playful shows with the latter taking inspiration from the British summer, with seaside summer dresses under macintosh coats and decorating its venue with large ice cream cones and animal balloons. A selection of its luxury handbags was also on display.
Issa, which was thrust into the spotlight when Kate Middleton wore a blue Issa dress to announce her engagement to Prince William last year, showed tropical colors, flirty dresses and luxurious kaftans.
Yellow, pale blue and pink featured prominently at many shows as did sky-high heels. There were also flashes of dark gold at some presentations as well as holographic cocktail dresses at Vivienne Westwood's Red Label show.
Westwood, had her models wear bold makeup and big hair, with some plaits hanging across the neckline.
Designers also picked a selection of venues for their shows with Westwood opting for an old London meat market, Temperley showing at the British Museum and Williamson presenting at the Tate Modern.
Celebrities added the final touch of glamour with their presence. Big names such as Kanye West, Ben Kingsley, Kristen Stewart, Kate Moss, Mario Testino, Pamela Anderson and Rosario Dawson came to see London shows while Beyonce unveiled her House of Dereon fashion line at luxury store Selfridges.
($1 = 0.639 British Pounds)
(Additional reporting by Basmah Fahim; Writing by Marie-Louise Gumuchian, editing by Paul Casciato)