London designers hail "elegant" Kate Middleton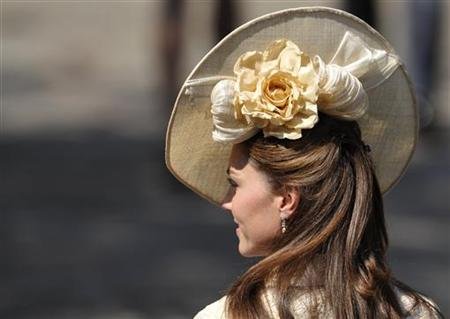 By Marie-Louise Gumuchian and Basmah Fahim
LONDON (Reuters) - Inspiring, chic and effortlessly elegant -- that's what designers at London Fashion Week have hailed Kate Middleton's style, as her sartorial choices could prove a potential stimulus to Britain's clothing industry.
Middleton has graced magazine covers since she announced her engagement to Britain's Prince William last year and her wedding in April was watched by millions of people around the world, with many eagerly waiting to see her bridal gown.
With all eyes on her wardrobe, dresses have sold out hours after she has worn them as women seek to copy her style.
"I think she is the new queen of fashion ... She's young, she's every little girl's dream and she always looks chic and sophisticated," Britain's Julien Macdonald told Reuters after his spring/summer 2012 womenswear show.
Middleton is as likely to wear designer clothes as high street ones. The 29-year old, now known as the Duchess of Cambridge, has been praised for wearing more affordable main street labels and has been snapped wearing clothes by British fashion retailers Reiss as well as Whistles and Spain's Zara.
A blue Issa crossover knee-length dress that she wore when her engagement to William was announced sold out within 24 hours and cheap knock-offs vanished almost instantly.
"I think she is great, I'm very fortunate that she likes to wear Issa," the label's designer Daniella Helayel told Reuters.
"PERFECT FUTURE QUEEN"
London has overtaken New York as the world's fashion capital for 2011, fueled by media interest in late British designer Alexander McQueen and Middleton, according to a survey by the Global Language Monitor released in August.
But while London has produced some of fashion's biggest names, it has struggled to maintain a global profile on a par with the other fashion capitals. Gloom on the high street is also evident. Consumer purchasing power is being squeezed by higher prices, muted wage growth, a lack of credit, job insecurity, a stagnant housing market, government austerity measures and fears of eventual interest rate rises.
Could Middleton be the stimulus to Britain's fashion industry, whose value to Britain's trillion-pound economy is worth some 21 billion pounds?
"She has already been a stimulus," British Fashion Council Chairman Harold Tillman said. "What it has done, it's (given) the opportunity to teach the world again what Great Britain is about. It's not just about her, they're a good looking couple, they set each other off very well."
While no one denies Middleton's influence, fashion experts still debate her status. In New York, fashionistas said she was a style follower, not a trendsetter like her spouse's late mother Princess Diana.
But London-based designers were full of praise for her.
"I think she's brilliant, she's brilliant for England. Perfect, perfect future Queen, she's elegant, she knows how to hold herself," said Alice Temperley, whose white dress Middleton wore to watch the tennis at Wimbledon earlier this year. That dress also swiftly sold out online after Middleton wore it.