Pearl Jam opens up on 20 years of rock fame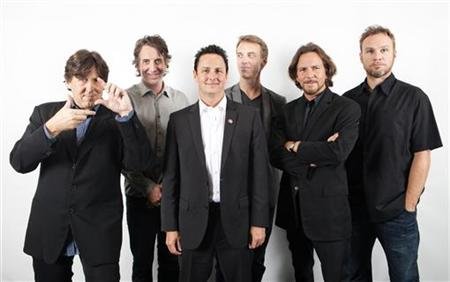 By John McCrank
TORONTO (Reuters) - Cameron Crowe's documentary "Pearl Jam Twenty" takes viewers on a 20-year behind-the-scenes journey with a band that has reached the top of the rock 'n' roll pantheon while refusing to embrace the spotlight.
"It's more than just a rock documentary," Academy Award winner Crowe said of the film he pieced together from over 1,200 hours of archived footage and recent interviews.
Highs like Pearl Jam frontman Eddie Vedder slow-dancing with Nirvana's Kurt Cobain beneath a stage while Eric Clapton plays "Tears in Heaven" above intersect lows like the suffocation deaths of nine fans at the band's Roskilde, Denmark concert in 2000, throughout the two-hour film.
"I'm still emotionally coming down from parts of it," guitarist Mike McCready said in an interview along with the rest of the band and Crowe following the premier of the documentary at the Toronto International Film Festival (TIFF).
"I had to sit down a while ago because I was overwhelmed ... much like a concert, but even more so."
Crowe, director of "Jerry Maguire" and a rock journalist in Seattle in the '80s, spent three years making the film. It hits movie screens worldwide on September 20 for a one-night showing, then runs for a week in select markets starting on September 23.
The Seattle-based group is also releasing a 384-page book and a 29-song soundtrack to mark its first two decades. A DVD of the documentary with extra footage will follow.
There are points in the film where the band appears near collapse, such as during its battle against Ticketmaster in the mid-90's, or the Roskilde tragedy, which drummer Matt Cameron said was for him the most wrenching part of watching the film.
"But it's an important part of our story too, of our survival, because we could have easily thrown in the towel," he said. "It brings memories to the front by sort of reliving it with an audience. That catharsis was very real with all of us."
TWENTY YEARS OF FAME
The birth of Pearl Jam followed the drug overdose of Andrew Wood, the charismatic singer of Mother Love Bone, in 1990. That group's guitarist Stone Gossard and bassist Jeff Ament later hooked up with McCready and Soundgarden's Cameron. Together they brought in Vedder, a surfer from San Diego, to sing.
Pearl Jam played their first show six days later.
Fame came quickly, but the band turned their backs on it. Vedder did not want to make videos, and in his acceptance speech for best hard rock performance at the 1996 Grammy Awards, he said, "this doesn't mean anything."
Twenty years on, Pearl Jam is ready to open up about its rise to fame and struggle to avoid its trappings.
"We've kept it all pretty tight," Gossard said, adding that at this point, "it's good to not be afraid to kind of let out some stuff and let people in to see how the process works and what the personalities are like."
Editor's Picks
Reality TV's Tareq Salahi seeks divorce from Michaele

"Mad Men" tries to fend off "Boardwalk" at Emmys