Edgy London takes over fashion season baton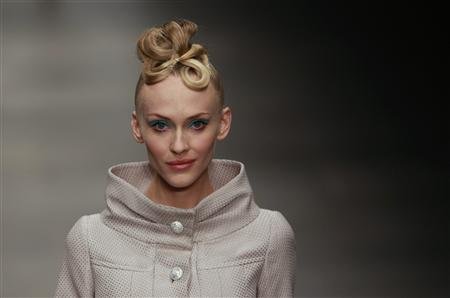 By Marie-Louise Gumuchian
LONDON (Reuters) - London kicked off the British leg of the fashion calendar on Friday, with designers eager to lift the gloom on the high street with the glitz of the catwalk through some of the edgiest shows in the season.
As summer draws to an end and retailers pack their stores with winter stock, September is one of the most important months in the fashion calendar as the four big catwalk fixtures -- New York, London, Milan and Paris -- gear up for next season.
In London, names like Burberry, Paul Smith and Mulberry will unveil their collections for spring/summer 2012 -- when the British capital will be thrust into the spotlight as it hosts the Olympic Games in July and August.
The dozens of British and international catwalk shows, presentations, including one by fashion darling Tom Ford, and parties cannot come soon enough for a capital city rocked by summer riots and a phone-hacking scandal that damaged confidence in the establishment.
"In 2012 the eyes of the world will be upon us - we want to show the world that Britain is the leading force in the global creative sphere," British Fashion Council Chairman Harold Tillman said in a statement.
"Our fashion reputation is second to none and we will ensure that reputation is showcased and celebrated to the broadest possible global audience and that there are opportunities for the whole of the industry to get involved and participate."
London is best-known as a showcase for cutting edge talent and avant garde trends, mixing up-and-coming names like Erdem with established designers like Vivienne Westwood.
It has produced some of fashion's biggest names but has struggled to maintain a global profile on a par with the other fashion capitals.
London Fashion Week will run until September 21, with one day dedicated to menswear. But whether cash-strapped shoppers here can keep up with the trends remain another matter.
SLUGGISH SALES
Sales growth in the fashion market stood at 1 percent over the past 12 weeks, according to market research group Kantar Worldpanel. But with average prices rising 6 percent over the same period, it said inflation was affecting the market as volumes fall.
"The number of fashion items sold across the whole sector has not increased year-on-year since January 2009, the same month that the UK entered recession," Ian Mitchell, insight director at Kantar Worldpanel, said in a statement.
"The economic downturn has certainly affected shoppers' behavior - fashion items are more expensive than they used to be so people can no longer afford to go on big shopping sprees and are buying less."
Recent surveys have shown UK consumer confidence and sales falling. Consumers' purchasing power is being squeezed by higher prices, muted wage growth, a lack of credit, job insecurity, a stagnant housing market, government austerity measures and fears of eventual interest rate rises.
The direct value of the fashion industry to the British economy is nearly 21 billion pounds ($32.77 billion) out of an economy worth just over a trillion pounds.
As the 15th largest British industry out of 81, it is similar in size to the food/beverage services and telecommunications industries and bigger than the wholesale and retail of automotives, sports activities, chemical manufacture and advertising/video sectors.
The fashion community has been reaching out to the public through the power of the internet and many London shows will be streamed live. The British Fashion Council will also hold question and answer sessions on the event on Twitter.
A string of celebrities are also taking their talents to the catwalk during London Fashion Week. Pop star Robbie Williams unveiled his Farrell collection of jackets and jumpers on Thursday, while singer Beyonce takes her House of Dereon range to one of the capital's top upmarket stores, Selfridges.
Friday's shows began with staple names Paul Costelloe and Caroline Charles. At the weekend, all eyes will be on Julien Macdonald, Vivienne Westwood, Matthew Williamson and Issa London, whose blue crossover knee-length dress Kate Middleton wore when her engagement to Britain's Prince William was announced last November. The dress sold out within 24 hours.
(Editing by Paul Casciato)
Editor's Picks
Glamour and glitz prevail on London catwalks

Glamour and glitz prevail on London catwalks