FBI arrests Florida man over L.A. art scam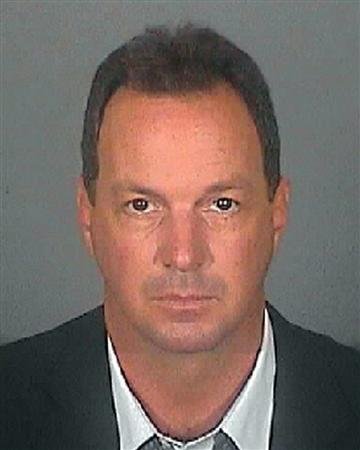 By Alex Dobuzinskis
LOS ANGELES (Reuters) - A former art dealer was arrested in Florida on Thursday on accusations he sold a Los Angeles collector forged paintings he claimed were by Claude Monet, Mark Rothko and others, federal prosecutors said.
Matthew Taylor, 43, of Vero Beach, Florida, was also accused of stealing paintings from a Los Angeles art gallery.
Taylor was charged in a federal grand jury indictment last week with wire fraud, money laundering, interstate transportation of stolen property and possession of stolen property. He faces up to 100 years in prison if convicted on all counts.
The wealthy Los Angeles art collector Taylor is accused of targeting bought more than 100 forged paintings from him for over $2 million between 2002 and 2007, the indictment said. The collector has not been identified.
"We just don't see that many cases along these lines," said Thom Mrozek, a Los Angeles-based spokesman for the U.S. Attorney's Office.
Taylor, who years ago ran a gallery in San Diego, tried to pass off some of the paintings he sold to the Los Angeles collector as works of famous artists such as Claude Monet, Vincent van Gogh, Jackson Pollock and Mark Rothko, the U.S. Attorney's Office said in a statement.
"The expertise he obtained working in the art world helped him perpetrate the fraud against the collector," Mrozek said.
The indictment said Taylor told the collector he got the paintings at estate sales, but that they were actually created by obscure artists and altered by Taylor to give them the appearance of works by famous painters.
He did that by painting over or otherwise obscuring signatures to hide the identity of the original artists, then forging signatures of famous artists, according to the indictment, unsealed on Thursday.
Prosecutors say Taylor also affixed on some paintings fake labels from museums, such as the Guggenheim in New York, to make it appear the works had once been part of the collections at those institutions.
In one instance, Taylor used the work of an artist who was close to Monet and had a similar style, passing it off as a creation of the great French impressionist, Mrozek said.
An attorney for Taylor could not be reached for comment.
The accusations that Taylor defrauded the Los Angeles collector by selling him over 100 paintings are contained in the wire fraud charges, Mrozek said. That is because selling an item under false pretenses is a form of fraud, he said.
Taylor is also charged in the indictment with stealing the painting "Seascape at Twilight" by the late landscape artist Granville Redmond from a gallery in Los Angeles and later selling it to a different gallery for $85,000.
The indictment also accuses him of stealing "Park Scene, Paris" by the late Lucien Frank from the same Los Angeles gallery.
(Reporting by Alex Dobuzinskis: Editing by Dan Whitcomb and Cynthia Johnston)