Yankee Rivera saves the day for 600th time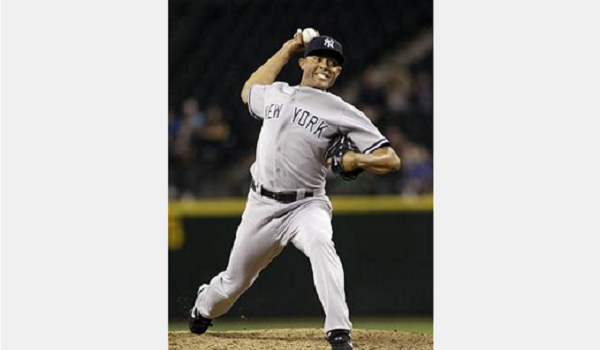 SEATTLE (Reuters) - Mariano Rivera became the second pitcher in baseball history to reach 600 career saves as he put the finishing touches on the New York Yankees' 3-2 victory over the Seattle Mariners on Tuesday.
The Panamanian reached the milestone after preserving a one-run lead in the ninth, where he came on and allowed a one-out single to Seattle's Ichiro Suzuki, who was thrown out trying to steal second to end the game.
Rivera's 600th save puts him one behind Trevor Hoffman's Major League record and strengthens the reputation of a pitcher widely believed to be the greatest closer of all time.
"It's a great number, don't get me wrong. (But) I'm not a guy who looks for things like that," Rivera told reporters after his 41st save of this season.
The soft-spoken Rivera has long terrorized opposing batters as an unstoppable force in late innings. He is a 12-time All Star and a five-time World Series champion, who has helped define the Yankees dominance with his playoff performances.
The all-time leader in post-season saves with 42, Rivera was also a World Series MVP (Most Valuable Player) back in 1999.
With the Yankees (90-57) top of the American League East and heading for another post-season, the 41-year-old Rivera has shown few signs of slowing down as he remains the face of the team's final-inning triumphs.
(Writing by Jahmal Corner in Los Angeles; Editing by John O'Brien)
Editor's Picks
Wakefield finally gets 200th career win

Wakefield finally gets 200th career win