Economic gloom weighs on fine wine auctions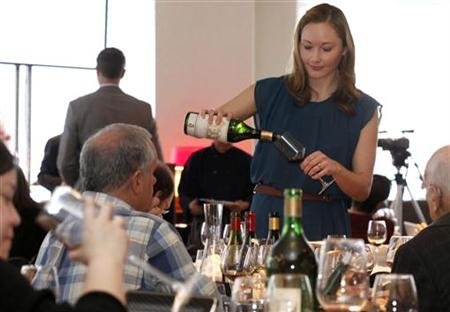 By Leslie Gevirtz
NEW YORK (Reuters Life!) - Global economic woes dented sales of fine wines at auctions in Hong Kong, New York and London, but some lots fetched record prices or exceeded presale estimates.
Fears of a Greek default roiling the world's markets and stubbornly high U.S. unemployment rates impacted the auctions. Unlike last season none of the houses sold 100 percent of their lots.
Despite the economic woes, Christie's set a record earlier this month when it sold 300 bottles of Chateau Lafite-Rothschild for $539,280 to a Chinese bidder, but the price was below the auction house's high estimate of $580,000.
Total sales for the Hong Kong auction were $7.6 million.
"These results confirm the passion of Asian clients for fine and rare wines, and indicate that interest in wine transcends fluctuations in the world economy," said Christie's head of wine for Asia, Charles Curtis.
His counterpart in London, Chris Munro, sold $1.6 million of wine late last week.
Sotheby's in New York on Saturday sold six magnums of 1985 La Tache, Domaine de la Romanee-Conti for $60,500, or $20,000 more than its presale high estimate. A case of 12 bottles of 1985 Richebourg DRC fetched $20,570, also above its presale high estimate of $20,000.
Also in New York on Saturday, Acker Merrall Condit sold a 3-bottle lot of 2003 Romanee-Conti, DRC for $29,280 and a 12-bottle case of 1999 Richebourg DRC for the same price.
"Burgundy was on fire this weekend," Acker Merrall & Condit Chief Executive John Kapon said.
Cases of 1982 Lafite Rothschild, a wine that frequently trades at auction, saw its prices rise as much as 40 percent in four months of the year. But it "has now found its range," Kapon said.
He sold a six-bottle lot of '82 Lafite for $24,400, whileSotheby's sold a 12-bottle case of the same wine for $54,450. A week earlier in Hong Kong, Christie's sold a 12-bottle case of '82 Lafite for $58,550.
Another indication that the bubbles may be leaving the fine wine market is the latest report from Liv-Ex, the benchmark indices for wines. The Liv-ex Fine Wine 100, which represents the movement of 100 of the most sought after wines, was down 4 percent in August.
Joe Marchant, who heads the Bordeaux Index 100, another benchmark that tracks the 100 most frequently traded Bordeaux, also noted a drop in activity in August.
He said for the first six-months of 2011 turnover had been very strong. "But in August it seemed flatter. It seemed to be the same as last year (2010)."
Sotheby's will hold another sale in London on Wednesday and Hart Davis Hart will have one on Saturday in Chicago. In Hong Kong this weekend Acker Merrill & Condit will hold an auction and Spectrum Wine Auctions has scheduled a two-day sale in Hong Kong for the last weekend in September.
(Editing by Patricia Reaney)