Children may soon be spared airport patdowns: Napolitano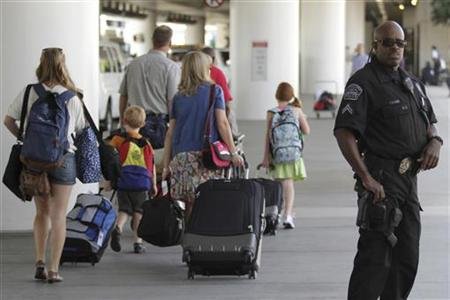 WASHINGTON (Reuters) - Children under 12 may soon be spared pat-downs and taking off their shoes as the U.S. begins to implement new airport security screening procedures, Homeland Security Secretary Janet Napolitano said on Tuesday.
"We have been piloting also programs to deal with children under the age of 12 with respect to not only taking off their shoes but also pat-down procedures," Napolitano told the Senate Committee on Homeland Security and Governmental Affairs Tuesday. "And we hope, over the coming weeks and months to be able to begin rolling that out."
Napolitano testified at the hearing, "Ten Years After 9/11: Are We Safer?" Tuesday morning.
In March 2002, the Transportation Security Administration's first class of federal screeners numbered 80 individuals, according to Napolitano's testimony.
Today, 14 million passengers fly to, from and within the United States each week -- and 100 percent of them are screened against government watch lists, Napolitano said.
More than 52,000 TSA personnel serve at over 450 U.S. airports.
Thousands of these TSA officers will require additional training to incorporate the shifts in strategy, Napolitano said.
Committee Chairman Senator Joseph Lieberman asked Napolitano about changing security policy at airports, as the TSA moves from a "one-size-fits-all" approach to a "risk-based" strategy.
"There will always be some unpredictability built into the system," she said. "But I think the traveling public will begin to see some of these changes really in the coming months."
Napolitano also mentioned the expansion of "Global Entry," which prescreens passengers for international travel and saw its one-millionth passengers just a few weeks ago.
"That really facilitates going in and out of and crossing borders," she said.
(Writing by Molly O'Toole; Editing by Greg McCune)