Analysis: Gene sequencers face govt budget squeeze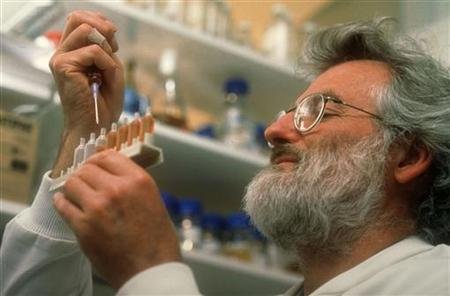 By Esha Dey and Shravya Jain
Bangalore (Reuters) - Companies that make the gene-sequencing devices used in scientific research face a tough few years as potential cuts to the U.S. federal budget squeeze funding to its main academic and research customers.
As the high cost of sequencing deters commercial use, the $1.5 billion market for gene-sequencers is dominated by genomic research centers, academic institutions and government laboratories that specialize in everything from finding causes for diseases to mapping the genetic make-up of crops.
These institutes largely depend on funding from the National Institutes of Health, which already had its budget cut by 1 percent this year, and faces another cut in 2012 just as it loses stimulus money that was authorised for two years.
"My assumption is that the NIH budget could be cut by 1 percent in fiscal 2012, which means that if you incorporate the stimulus money rolling off as well, you could get a 2.5 percent headwind," said Leerink Swann analyst Dan Leonard.
Companies such as Illumina, Affymetrix and Life Technologies get 20-40 percent of their revenue from U.S. government-backed research and are expected to take the biggest hit from a funding cut.
Other more diversified players in the gene sequencer market -- expected to be worth $3.6 billion by 2015 -- with lower exposure to the funding risk include PerkinElmer, Waters, Thermo Fisher Scientific and Mettler-Toledo.
"I have submitted proposals to the NIH that scored in the very top percentiles and would have normally been unquestionably funded, but were not funded as submitted because of cutbacks," Michael Schatz, assistant professor at Cold Spring Harbor Laboratory (CSHL), said.
Schatz, who is researching the genetic components of human diseases including autism and cancer, expects the downward trends to continue for several years, and said funding restrictions were limiting the number of new contracts awarded to gene sequencers.
MORE CUTS SEEN
Under last month's debt-ceiling law, a Congressional "super committee" was tasked with finding savings of $1.2 trillion to reduce the federal deficit. If it can't, certain discretionary items will automatically be cut.
"In 2013, if the super committee can't come to any kind of agreement, then the NIH's budget could be cut by close to 8 percent," said Macquarie Research analyst Jonathan Groberg.
With unemployment rates soaring, Congress is likely to allocate funds to areas promoting job growth. Basic research may be crucial to innovation, but it doesn't directly create jobs.
"If you're a congressman or senator going for re-election next year and you can't tie your advocacy for NIH funding to job creation, it won't be helpful," said Isaac Ro at Goldman Sachs.
The uncertainty could pressure the sector's stocks, which currently trade at almost a 20 percent premium to the broader Standard & Poor's 500 Index, Ro said.
"In the credit crisis of 2009, these stocks traded at a 10 percent discount to the S&P. So the relative valuation to the market can still come down," he added.
Editor's Picks
Summer Arctic sea ice melt at or near record

Summer Arctic sea ice melt at or near record

Rocket lifts off with satellites to probe moon