Google buys Zagat to vie with OpenTable, Yelp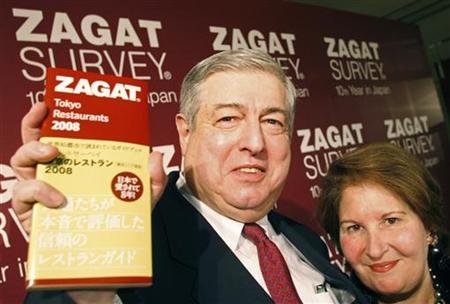 LOS ANGELES (Reuters) - Google Inc has bought Zagat, the popular dining recommendations and ratings authority, jumping into a niche Web market alongside the likes of OpenTable Inc, Yelp and Yahoo Inc.
The shares of restaurant-booking service OpenTable, which also publishes reviews and ratings, were down more than 8 percent to $57.50 in midday trading after hitting a low of 54.50 earlier.
The 32-year-old Zagat, which polls consumers and compiles reviews about restaurants around the world, will become a cornerstone of Google's "local offering" and work in tandem with its mapping services and core search engine, the Internet search and advertising leader said.
Buying Zagat should fill a hole for Google -- which needs reviews and other content for its "Google Places" websites -- and fend off criticism. It has been accused of using comments from review sites, essentially siphoning off their readers and, more importantly, their clicks.
The Federal Trade Commission has been looking into the issue as part of a broad antitrust investigation, a source familiar with the probe has said.
Founded by Tim and Nina Zagat, their eponymous service provides the familiar burgundy pocket-sized guides to restaurants in more than 100 cities. It may be one of the earliest forms of user-generated content, Google Vice President Marissa Mayer said in a blog post on Thursday.
Zagat gave Google a tongue-in-cheek rating on its home page on Thursday, awarding the Internet company a maximum 30-point rating for its "local, social, mobile and usefulness" categories. Industry analysts regard the local, social and mobile markets as some of the fastest-growing areas of the technology sector.
"We are thrilled to see our baby placed in such good hands and to start today as official 'Googlers,'" the founders said in a joint statement.
Zagat enlisted Goldman Sachs to explore a sale as early as 2008, although no buyers emerged in the middle of a recession. The company might fetch as much as $200 million, it was reported at the time.
Google declined to offer any transaction details on Thursday.
(Reporting by Edwin Chan; editing by Maureen Bavdek and Andre Grenon)
Editor's Picks
Google buys Zagat to vie with OpenTable, Yelp

Google buys Zagat to vie with OpenTable, Yelp

Google buys Zagat to vie with OpenTable, Yelp