Embracing your character: Going on a literary pilgrimage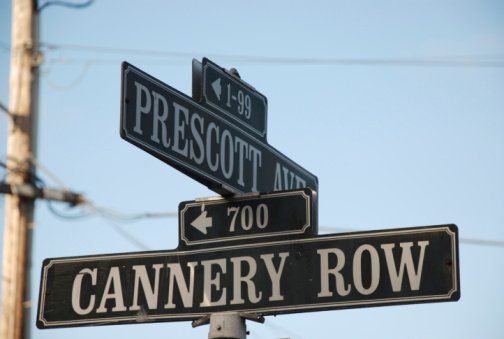 There comes a point in every reader's life where the urge strikes hard to get up and physically visit the places you've only ever seen in your mind's eye. Unfortunately for many, this isn't always a possibility—try finding The Shire of Middle Earth, Camelot, or El Dorado on a map sometime and see how long you keep looking. But luckily, there are some fictional characters whose steps it is entirely possible to recreate, and some authors whose fictional worlds are, as it turns out, very real.
Mark Twain – Arguably the greatest American writer born in Hannibal, Missouri (how's that for heading off the aforementioned argument with rabid Faulkner, Poe and Dickinson fans?) is Samuel Langhorne Clemens, a.k.a. Mark Twain. Anyone that's ever wanted to get closer to Twain's universe has only to visit his hometown of Hannibal, where the classic Huckleberry Finn and Tom Sawyer yarns took place. The town contains numerous landmarks that celebrate both the real Twain and his fictional characters. Among the main attractions include the home in which he grew up and the Mark Twain Memorial Lighthouse, which, while it does overlook the Mississippi River, bears the distinction of being the only lighthouse in the world built so far inland.
Ernest Hemingway – If you're in the mood for some serious excitement, the kind that comes from being chased down a cobblestone street by a pack of wild bulls, then we've got a suggestion for you. But you don't have to fear for your life on this trip—you can also be a spectator at the annual Running of the Bulls in Pamplona, Spain, which was brought to international fame in Ernest Hemingway's 1926 novel The Sun Also Rises. If you're in the mood for something a bit more tame, you can pay a visit to Key West, Florida, where Hemingway lived and whose residents celebrate his memory with a yearly Hemingway Days Festival.
John Steinbeck – Born in Salinas, California, John Steinbeck's greatest gift to his hometown and the surrounding areas was to immortalize them in his classic works. Two of Steinbeck's novels, Cannery Row and Sweet Thursday, were set primarily on the oceanfront street in Monterey, California, which was formerly known as Ocean View Avenue but was renamed in the late '50s in honor of Steinbeck. Traveling there today, it's almost impossible to miss as it's a vibrant area with storefronts and restaurants catering to tourists, as well as preserved sites that served as inspiration for his fictional worlds.
Bram Stoker – Fans of the eerie, the creepy, and the outright frightening might find Transylvania to be much more laid back and charming than they'd imagined. But that's no reason not to retrace the steps of the fictional Jonathan Harker as he made his way to Castle Dracula in the classic Bram Stoker chiller. The city of Bistritz, now with about 80,000 residents, was where Harker stayed at the Golden Crown Hotel before heading out for his infamous meeting with Count Dracula. Note, you can stay at the Golden Crown Hotel today, but this is a hotel that's been built by smart locals cashing in on all of the tourism. Moving eastward through Borgo Pass you'll come across the approximate location of where Castle Dracula stood in Stoker's imagination. Today, there's a Castle Dracula Hotel that attempts to replicate the experience for tourists.