At-home New Year's Eve party ideas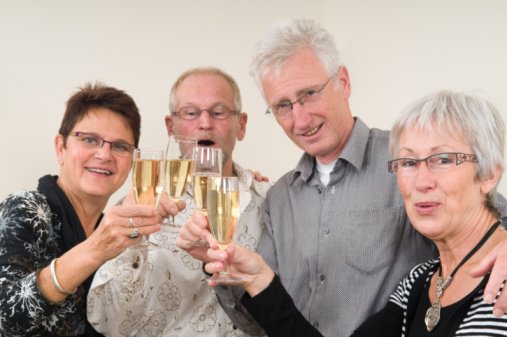 Planning an at-home New Year's Eve
Throwing a party at home with all your closest 
friends and family can be a great way to ring in the New Year. Spending it at home is a fantastic opportunity to bond, have fun together and celebrate new year with your loved ones, rather than with a crowd. Here are some tips of what you'll need to make sure your New Year's Eve is very festive and easy on the wallet.
Invites
Keep it simple and inexpensive by sending an e-vite to your guests. Make sure you send the invitations way in advance, since the holiday can get booked up and you want to give people enough time to RSVP. Follow up with them a week before your party if they haven't responded yet to double check final numbers.
Decor
Add a few new touches to spruce up your home—or at least the room in which the party will take place. If you are looking for budget-friendly solutions, stay simple by using streamers, cardboard stars, candles and confetti for your decorations. These can be found at your local party store for very low prices. Empty wine, champagne and beer bottles can be used as vases to decorate your tables. Borrow tables and chairs from your neighbors (which means you have to invite them, so be prepared). If you still need supplies, try renting them from a party supply store. This will be the place to get glasses, china and tablecloths as well.
Food
If you start your party later in the evening, it will give your guests a chance to eat before they arrive, saving you time and money. With this time adjustment, you can serve wine or champagne and appetizers or desserts instead of preparing a big meal. You can even plan it in a pot luck style and have everyone bring their favorite snack. Before your guests arrive, put out a few bowls filled with olives, nuts, and crackers to nibble on.
Drinks
Before you go shopping for your party, take stock of what liquors and mixers you have in your home pantry or bar. These will be the most expensive items for your party, so check make use of what you already have. You'll need one bottle each of the most common liquors (vodka, gin and whiskey). After that you'll need to get one bottle each of the most popular mixers, like soda, tonic, and fruit juice.
If you want to save costs on liquor, make it BYOB and tell your guests to bring their own favorite bubbly or beer.
Another cost-saving idea is to create your own signature cocktail and serve just that and beer or wine. Sangria is a very popular choice for this type of event. You can keep a pitcher filled for guests, so you also don't have to worry about having a person mixing drinks.
Don't forget to make sure that all your guests have safe transportation home. Prepare for the possibility that someone may be sleeping in your home by having fresh linens available for the guest room or couch. If you're closer to a city, have numbers for cabs posted on the refrigerator.
Entertainment
Decide on fun things to do together. Plan group, active games to play while you pick at food and sip cocktails. Think about charades, active board games, card games and trivia. Don't forget to discuss resolutions and goals for the New Year—you can even make that a game. You don't always have to follow your planned schedule; allow the party to naturally run its course and let yourself relax and mingle with your guests.