Cracks appear in Asian demand for contemporary art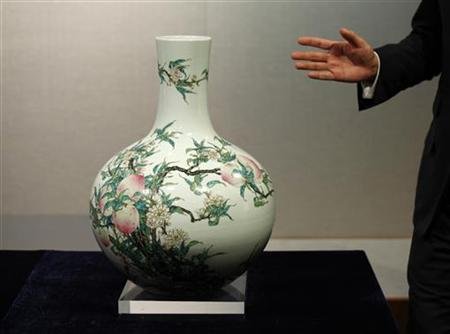 "Conceptual and academic art has done well that couldn't sell before. This correction is a kind of return to basics. Its returned from commercial prices to art value," said Gu Zhenqing, a curator and dealer who organized the Chengdu biennale in 2001.
In the coming days, demand for a prominent Chinese ceramics "Meiyintang" collection from one of the last great European troves of imperial wares, jewelry and watches will also be put to the test at Sotheby's Asia sales which end on October 6.
Whilst the luxury art market tends to dovetail the financial markets by several months, art is sometimes considered a safe alternative haven for investors to diversify portfolios at the high end of the market, given a flight in confidence in more traditional asset classes.
Sotheby's wine sales over the weekend also showed a possible wrinkle in Chinese demand for luxury goods and vintage wines.
For the first time since it launched wine sales in Hong Kong in 2009 after the city abolished wine duties, it failed to sell out its wines at an auction to tap what has been considered to be an insatiable demand for luxury products from Asia, particularly China.
($1 = 7.785 Hong Kong Dollars)
(Reporting by James Pomfret, editing by Paul Casciato)