Cracks appear in Asian demand for contemporary art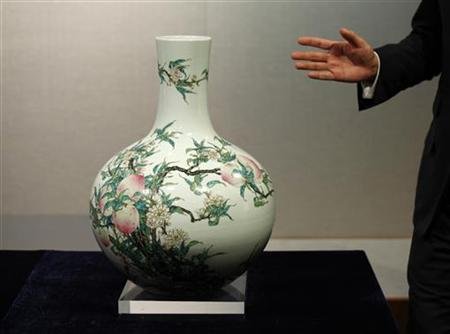 By James Pomfret
HONG KONG (Reuters) - The Asian art market juggernaut showed signs of weakness on Monday in Sotheby's sales of Chinese 20th century and Asian contemporary art as global stock markets plunged on a darkening global economic outlook.
Sotheby's biannual Asia sales in Hong Kong, the world's third largest art auction hub after New York and London, are a closely watched barometer of art and luxury market sentiment for its array of offerings spanning Chinese antiques to fine wines.
While prices were still strong for early masterpieces from prominent artists like Zhang Xiaogang, mid-tier works struggled to find buyers with 27 percent of Asian contemporary works and 22.6 percent of the 20th century Chinese art work failing to sell on tepid bidding.
On Sunday, auction room sentiment for the feted Guy Ullens collection of contemporary Chinese art was noticeably cooler than April when the first batch of the Belgian tycoon's works raked in $54.8 million with a sprinkling of record prices.
While the 91 pieces were considered inferior to the April offerings from Ullens, including more experimental conceptual and installation works produced in China in the pivotal 90s, the recent market turmoil weighed on buyer sentiment.
"It'll be the same in New York. The top lots will fetch crazy prices and the average ones will sell poorly," said Edouard Malingue, an Asian art dealer.
"If you focus on medium quality, mediocre quality then I would be worried," added Malingue.
The top lot in the Ullens sale was Zeng Fanzhi's "Mask Series 1998 No. 26" that sold for $2.6 million.
In Monday's sales of over 300 works of contemporary Asian art and 20th century Chinese paintings, the plunge in the Hong Kong stock market to a 2-and-a-half year low and a darkening global macroeconomic outlook weren't lost on some buyers.
Lesser works by blue-chip artists Yue Minjun and Zeng Fanzhi failed to sell, even though estimates were seen as reasonable.
Yet Jeffrey Yu, a veteran Taiwan collector who described the mood as "very calm," still expressed frustration at the lingering buying power of Chinese dealers and art investment syndicates in snapping up major works including a Zao Wou-ki abstract canvas "10.1.68" that made HK$68.9 million ($8.9 million) and a 1931 Sanyu "Reclining Nude" for HK$16.3 million.
"We just couldn't chase the price said Yu, who bid up to HK$10 million for Wu Guanzhong's "Versailles" before giving up.
"The Chinese art syndicates still have huge budgets," he added. "Chinese property isn't doing well, nor are stocks so they're still putting money into the best (Chinese) art."
Whilst Chinese art has steamrolled to fresh highs, with its market share of the global contemporary art auction market having grown from 0.9 percent in 2002 to 27.7 percent in 2010, according to art consultancy ArtTactic, the market is prone to manipulation and speculation by aggressive syndicates playing the sector and hyping up artists almost like venture capitalists.
While few went as far as describing the Sotheby's sales as a tipping point, some say the softening demand presented a potential opportunity for certain categories including ink works and more traditional, scholarly asset classes.