Perry says slowing carbon emissions hurts economy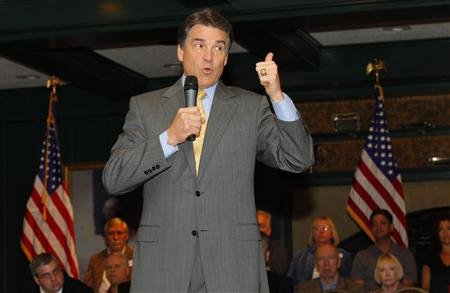 By Jason McLure
ATKINSON, New Hampshire (Reuters) - Texas Governor Rick Perry, struggling to regain his status as front-runner for the Republican presidential nomination, expressed fresh doubt on Saturday about whether humans are causing climate change.
"I still stand by that the science is not settled on man-made global warming," Perry said while campaigning in the key early primary state of New Hampshire.
Perry, a favorite of the fiscally conservative Tea Party movement, also said that efforts to slow rising carbon dioxide levels in the atmosphere could "devastate" the United States economically.
The comment came in response to a voter who questioned whether Perry's views on climate change and Social Security make him too "extreme" to win independent voters in a contest with Democratic President Barack Obama in 2012, should he win the Republican nomination.
Even among New Hampshire Republicans, the majority of whom are considered moderate, Perry is struggling, with a recent poll putting his support in the state in the single digits.
Perry joined the Republican race in August and immediately jumped to the top of nationwide opinion polls. But after recent disappointing debate performances, Perry lost his front-runner status to Mitt Romney.
"The idea that a scientific statement is incontrovertible and cannot be questioned is very alien to me," Perry told a gathering at a country club in Atkinson, New Hampshire.
"Just because there are a large number of scientists that stand up and say this is the fact, there are other scientists on the other side of this saying 'now wait a minute.'"
Long-time governor of a state rich in oil and gas resources, but one that has suffered from a string of devastating wildfires and record heat this year, Perry has repeatedly expressed skepticism that humans are causing climate change.
Romney, a former governor of Massachusetts, says he believes humans contribute in some way to climate change but that he doesn't know how much. Romney also does not believe the United States should cap emissions.
'PONZI SCHEME'
Within the Republican field, only former Utah Governor Jon Huntsman has said that he believes humans are the main cause of climate change.
A 2010 survey of 1,372 climate scientists by the National Academy of Sciences found that more than 97 percent of those publishing in the field believed humans were the main cause of global warming over the past century.
Despite this, only about a third of Americans in an October 2010 Pew Research Center survey believed that humans were causing climate change. That figure was down from 50 percent in 2006.
"Are we as a country willing to take this science as incontrovertible and put in place cap and trade legislation that will devastate this country economically?" Perry said.
Perry repeated comments that the Social Security system is a "Ponzi scheme," while saying that current recipients and those soon to retire should count on keeping their benefits.
"If you're a mid-career young American or a young person just starting in the workforce, you know that program is not going to be there," Perry said.
Romney's campaign has seized on Perry's views in their efforts to paint their rival as far out of the mainstream.