How your grandchildren can be an asset to your fitness routine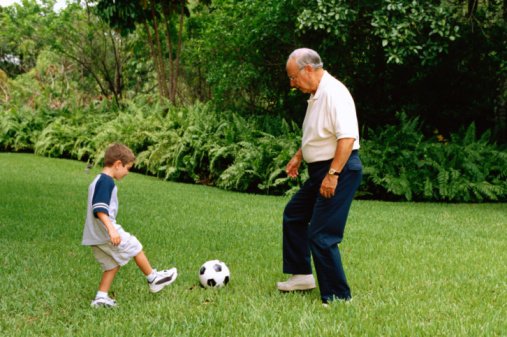 With non-stop energy levels and unbridled enthusiasm, our grandchildren are a great asset to staying fit. Think of them as your own personal fitness trainer! Most importantly, our grandkids don't just keep us physically active -- they keep us mentally active, too. From helping us embrace change to reminding us that the world is filled with possibilities, our grandchildren's creativity, enthusiasm and excitement over simply being alive is incredibly infectious.
Here are five ways our grandkids can keep our minds, bodies and souls young:
Take a hike
Physical activity comes naturally to children; if you've ever spent an afternoon chasing a toddler around the living room, then you know just how active children can be! Don't just cheer on your grandkids at their next soccer game, get off the sidelines and get your blood pumping, too! While high-impact activities can be rough on joints and bones, lower-impact activities like hiking or a trip to the zoo are a great way to get active together.
Learn together
As we age, it's natural to feel that the world is changing too quickly. We've all begun a conversation with the famous words, "When I was your age...". Children see a world filled with endless possibilities for discovery and exploration. Adopt this same attitude by embracing rather than resisting change -- and make it a family experience. Sign up for an art class with your grandchild, take tennis lessons together or practice learning a new musical instrument. Learning a new skill keeps our minds sharp, and it's even more fun to share the learning experience with your grandchild.
See the world through your grandchild's eyes
Our grandchildren find excitement and possibility in even the smallest things. In fact, according to a study published by the Society for the Psychology of Aesthetics, Creativity and the Arts , when older adults view a challenging situation through a child's perspective, we see opportunities rather than roadblocks. Embrace curiosity by taking your grandchild to a children's discovery museum, going for a walk in the park or planning a day of urban exploration.
Get active with video games
Bowling in the family room? Tennis in the middle of January? Every sport is a possibility with a fitness gaming system like the Nintendo Wii. Playing games together as a family is a great way to translate your grandchildren's love for video games into a fun family activity. And Wii games aren't just for the grandkids; these games can also help older adults improve coordination, balance and flexibility. With a little practice, we know you can beat the grandkids!
Add movement to your favorite activities
Do you love having the grandkids over and serving them a giant slice of your famous, fresh-baked apple pie? Take the grandkids apple picking the day before for fresh ingredients. Do you love reading together? Act out scenes from your grandchild's favorite bedtime story or take a walk together and pretend your neighborhood is Hogwarts. Imaginative, active play and exploration will keep you both young!
Content Provided by Spot55.com