Rekindling the spark: Timeless romantic destinations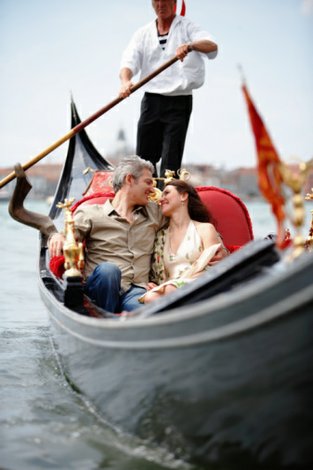 You don't have to wait for Valentine's Day to try to rekindle your romantic spark. In fact, your better half will probably appreciate it if you don't wait to express your love until the spirit of the season moves you. But don't just spring for a dozen red roses; ramp up your efforts by whisking your loved one away to one of these five timeless romantic destinations.
Bruges, Belgium -- Here's one you may not be as familiar with, but once you've been, you'll never forget it. Bruges is an idyllic city in the northwest end of Belgium with a relatively scant population of only about 116,000 residents. The tourism it sees, however, is considerably greater and it's increasing with every passing year. One of the biggest reasons for this is the medieval architecture that adorns the city and the Venice-like canals that cut through the middle of the city. It also won't hurt your enjoyment of Bruges if you're into fine chocolate. But as far as romantic destinations go, this is one place to see now, before the rest of the world has discovered it! For a luxurious stay, try the Kempinski Dukes Palace Hotel.
Venice, Italy -- It's hard to imagine that a place as heavily touristed as Venice could possibly be romantic, but if you have any doubt then you'll probably be bowled over after spending just a few minutes here. From gondolas down the Grand Canal to basilicas that dwarf you with their immensity, this is one city that'll wake the sleeping romantic inside anyone. If you're really interested in immersing yourself in history, set your sights on a stay at the Hotel Gritti Palace, which dates back an astonishing five centuries to 1525.
Paris, France -- Paris is a place that's become synonymous with romance, and rightly so. If your aim is to not only rekindle the spark of romance but start a fire that just might burn out of control, The City of Light is where you want to head. With an intoxicating mix of rich culture, architecture, great food and even better wine you'd have to try very hard not to get swept up in its romanticism. For a small (but worthwhile) fortune you can book a room at the Hotel Scribe, a luxury hotel just over a mile from the center of the city. Your wallet may protest, but the memories will last forever.
New York, New York -- If you ask the denizens of New York City what the most romantic place on the face of the earth is, the vast majority of them won't mention their hometown. Blame that on familiarity, but don't take that as any indication that The Big Apple doesn't have some serious mojo when it comes to the romance department. You've got Broadway, Central Park, the glitz of Times Square, and the Statue of Liberty all within easy reach. And if taking in such breathtaking attractions doesn't fill you with a sense of awe and romance, try dinner at a world-class restaurant; you'll be singing "New York, New York" before long. To stay in one of the most romantic hotels in Manhattan, take a look at the St. Regis, and if you want a way to justify the high nightly rates, just remind yourself that this is a once in a lifetime trip. Even if you plan on coming back again next year.
London, England -- London is a town that's as rich in mystique as it is in history, and there are few places on earth quite as capable of delivering an "everything under the sun" vacation experience--even though you won't find many Londoners willing to agree to the "sun" portion of that statement. But you're here for romance, not a tan. And if you can't find romance in London then you really don't know how to look. But here's a great place to start: Swissotel The Howard offers just about everything that's required for a romantic getaway, and is in convenient proximity to the River Thames and a walk away from the Covent Garden shopping district. Not that you'll be doing much shopping if things go right, but you never know.
Content Provided by Spot55.com