How to set a sophisticated Thanksgiving table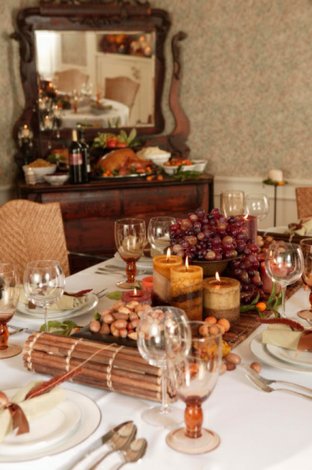 Thanksgiving dinner gives you the chance to slow down, enjoy delicious comfort food and relax with good company. A chic and cheerful table makes this holiday event that much better. Spice up your Thanksgiving table with these simple ideas to give thanks in style.
Choose a color scheme as a starting point for setting your Thanksgiving table. A perfect color palette for a chic Thanksgiving table is black and white with chocolate brown and orange as your accent colors. When setting your Thanksgiving table don't be afraid to mix textures and patterns.
Arrange a Thanksgiving-inspired floral centerpiece as your table's focal point by adding red, orange and yellow flowers as well as berries and mini pumpkins to your centerpiece. Include burgundy place mats to your table setting for a striking contrast. Combine trendy and traditional pieces.
For a more elegant look, match up stylish black and white plates with showy accessories in orange and brown. For the more eccentric types, purchase seasonal plates in bold patterns and colors to add to any Thanksgiving table. Style your napkin holders using berries, fall blossoms, or inexpensive bracelets and bangles. Use items you already own in an unexpected way. For example, candleholders also make great pedestals for mini pumpkins. Dress up your chairs with large bows in your accent color to put the finishing touches on a lavish setting. Tie handmade place cards to mini pumpkins with your guests name for a personal touch.
Content Provided by Spot60.com