It's never too late to train for your first triathlon: A how-to guide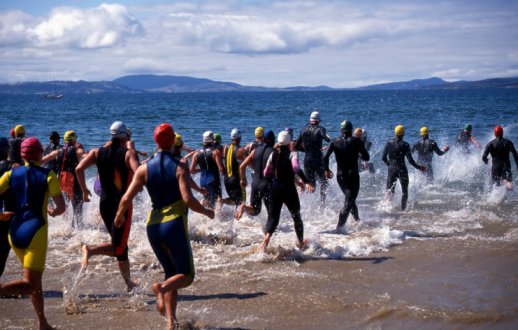 Think you're too old for a triathlon? Think again! Attend any triathlon as a spectator, and you'll see all ages, from kids and teens to athletes in their 80s and 90s. You'll also see the whole spectrum of shapes and sizes and levels of ability. The advantage of triathlons is that they allow you to cross-train for three unique sports--running, biking, and swimming--which improves your overall fitness while reducing wear and tear on your body. And they're a blast! Worried about stamina? Triathlons come in a variety of distances, including sprints and even super sprints. And ladies, you can opt for the increasingly popular women-only triathlons, which are known to be friendlier and less competitive than co-ed races. There's just never been a better time to "try a tri"!
So how do you get started, particularly if you're brand new to all three components? Your best bet start with just one of the activities and start a beginner's level weekly routine. For example, you can start walking for 20 to 30 minutes, three to four days a week, and after a month, start adding one-minute jog intervals to gradually build a solid run/walk program for yourself. This will become the foundation for the first leg of your race. When you feel comfortable, move on to adding a beginner's level routine for another triathalon component.
Meanwhile, do an Internet search for local races that look interesting to you. If possible, volunteer for one of them, to help you familiarize yourself with the event. You can also chat with athletes and race personnel for additional resources.
To expand your training safely, check your local community center or gym, as these facilities frequently offer triathlon training programs, allowing you to prepare for your first race under the guidance of an instructor, and in a group environment. You'll have fun and make friends while working side-by-side with others sharing your same goal.
Remember, start slow, break it up into small, manageable steps, but keep at it. You'll be amazed at what you can accomplish. Best of all, the empowerment you'll feel upon crossing that finish line is unlike anything you've ever experienced before.
Content Provided by Spot55.com