Guided adventure-travel vacations on every continent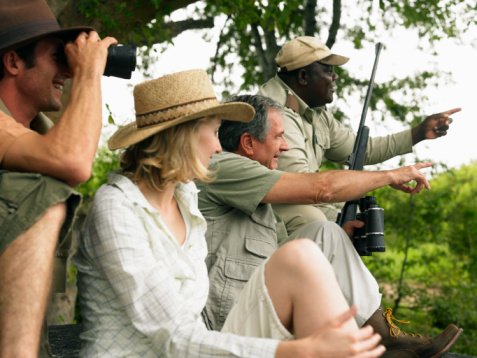 When we were younger, many of us had dreams of traveling the world with little more than a backpack and a map. But if you never got the chance to get away, or if you simply developed a taste for adventure later in life, it's good to know that it's never too late to pack your bags and go! What follows is a selection of some of the best guided adventure-travel vacations on every continent.
North America
Enjoy the trip of a lifetime with TrekAmerica's Alaska, Yukon Camp; Arctic Circle tour. This 21-day guided tour allows you to experience Alaska's amazing wildlife in some of its most beautiful regions, including the Denali, Kluane, and St. Elias National Parks, and the Prince William Sound. If you want more of a challenge, simply add an ice-climbing expedition or a dogsled tour to your trip.
South America
Experience 21 days of wonder with TrekAmerica's Ruta Maya tour. You'll visit the Tikal ruins in Guatemala, the Temple of Inscriptions in Palenque, and the Indian Markets in San Cristobal, as well as enjoy the famous beaches at Playa del Carmen and relax on the idyllic island of Caye Caulker in Belize.
Europe
The 8-day active Rila-Pirin Mountains Trek through the highest mountain range in Bulgaria is a must-do for hiking enthusiasts. You'll enjoy some of Europe's most beautiful nature reserves, see magnificent lakes, and visit the ancient Rila monastery. If you're not ready to go home after 8 days, add an extension to the Black Sea or the quaint village of Lozenets for some relaxing days at the beach.
Africa
If you've always wanted to go on safari, it doesn't get much better than ElderTreks' 22-day Great East African Safari. This takes you to the great national parks of East Africa, including Serengeti, Maasai Mara, Bwindi, Ngorongoro Crater and Tarangire. You'll see wildebeest, gazelles, elephants, zebras, lions, chimpanzees and black rhinos while you visit a wide variety of different ecological settings. In addition, you'll have the opportunity to meet the people of East Africa, including the proud Maasai and the shortest people on Earth, the Pygmies.
Asia
Adventure Center offers the interesting and active 13-day Mongolian Adventure, which takes you through the steppes of Mongolia and into the singing sand dunes of the Gobi Desert. You'll also learn about the impact Genghis Khan had on Mongolia, visit ancient Buddhist temples and monasteries, and have a brief taste of the nomadic lifestyle in a real Mongolian nomad camp.
Oceania
Join National Geographic Expeditions for an 11-day tour of Australia's Outback and the Great Barrier Reef. Enjoy bush walks and meetings in Australia's outback before heading to Cairns to see the Great Barrier Reef--the largest coral reef on earth--from the comfort of your own private catamaran. Spot wildlife in Daintree National Park before concluding your trip with a day of exciting white water rafting in Barron Gorge National Park.
Antarctica
Marvel at the pristine world of the Antarctic with Peregrine Adventure's 15-day Crossing the Circle tour. From a professionally equipped expedition vessel, you'll explore the South Shetland region, as well as the Antarctic Peninsula. Seals, penguins, whales, and an abundance of seabirds are just some of the wildlife you'll encounter on this trip!
Content Provided by Spot55.com