Spring 2011 Retirement Living Guide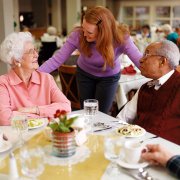 Today's retirement and assisted living communities offer a wide range of lifestyle choices, from basic apartments to luxury accommodations with all the bells and whistles. Northwest Prime Time's retirement housing guide offers a sampling of retirement housing options in the area and features a locator map and amenities grid for easy comparison. The PDF files below feature locator maps and information grids for easy comparison – organized by geographic location: Seattle area; Eastside; South King County; Snohomish County; and South Sound.




Seattle Area

Eastside

South King County

Snohomish County

South Sound
---
Tips for Choosing Retirement & Assisted Living Communities

Many options await you. Here is a list of different types of senior housing along with definitions and questions to ask to help in your decision-making.
Retirement community options range from completely independent lifestyles through skilled nursing care. Features can include housekeeping service, from one to three meals per day in a common dining area, organized recreational and social activities, van rides to grocery, medical and other appointments, and safety features such as call bells for assistance. Facilities range from basic apartment complexes to campus style, park-like or luxury hotel style settings. Entrance fees and monthly costs vary tremendously. Care options range from very little care for healthy, independent residents, to help with daily living needs for frail individuals, to complete nursing care. Some facilities specialize in treating people with Alzheimer's or other memory problems.
Independent Retirement Apartments/Communities: Month-to-month rental facilities feature independence for seniors. This arrangement allows you to enjoy an active, independent lifestyle in a community setting with organized social and recreational opportunities, but allows you to move quickly when your needs exceed the services offered. Facilities are usually apartment or condo style units, although cottage-style living options are growing in popularity. They come with complete living units: kitchen, bedroom(s), living room and bath.
Assisted Living facilities offer independent, community style living such as described above, but also offer more care with 24-hour nursing supervision for help with needs such as medication, bathing, getting dressed and laundry.
Nursing Homes provide skilled nursing care for people who cannot live independently. These facilities offer substantial day-to-day care, have 24 hour nursing and an attending physician.
Continuing Care Communities are designed to meet residents' needs from the active, independent lifestyles experienced in independent retirement communities, through assisted living, to skilled nursing care all on site at the same facility.
Adult Care Homes provide housing, meals, and one-on-one assistance with activities of daily living. They are single family homes in residential areas, usually licensed for four-to-six residents.
Some considerations when choosing a retirement community:
Cost – According to the U.S. Department of Labor, no more than 60% of your income (or combined income for a couple) should go toward supporting you in a retirement community. Consider entrance fees and monthly costs. Is this a non-profit or for-profit facility? Are any subsidies available? Do you have long-term care insurance, pension benefits or other resources to help with these costs? Be sure you know all services that are (and are not) provided for your monthly fee.