Travel Postcard: 48 hours in Bath, England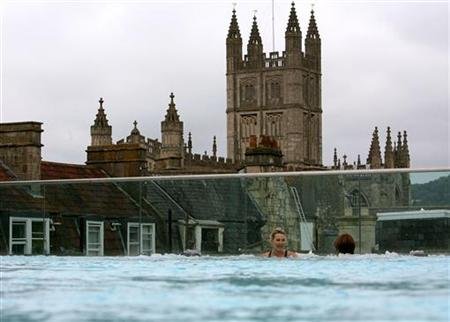 By Josie Cox
Bath (Reuters Life!) - A comfortable two-hour drive from London lies the picturesque British spa town of Bath. Dominated by a population of bourgeois pensioners and students from all walks of life, the city is steeped in history and bursting with culture. Reuters correspondents with local knowledge help you get the most out of 48 hours in a city with its share of old English charm and more than just a pinch of modern zest.
FRIDAY
6 p.m. - Bath was first established as a spa resort under the Latin name Aquae Sulis, or "the waters of Sulis," by the Romans in AD 43. Nestled between the rolling hills of Somerset county, in the valley of the river Avon, Bath is the only place in the United Kingdom with naturally occurring hot springs. What better way to kick off your weekend then, than by soaking in the roof-top hot tub of the Thermae Bath Spa, aroma steam rooms and invigorating ice baths, or feeling the heat of volcanic basalt stones surge through your body while indulging in a Hot Stone Massage. Sessions start at 25 pounds per person. Special packages are available and should be booked in advance. (http://www.thermaebathspa.com/)
10 p.m. - Bath's international student population is reflected in the city's multicultural flair and patchwork of culinary and cultural offerings. Restaurant, bar and club Opa!, on Bath's North Parade just a stone's throw from the Abbey, serves aromatic Greek dishes, tantalizing meze and a selection of great wines, cocktails and beers. As the evening wears on, take to the dance floor where locals and tourists shake off the stress of the working week until the small hours of the morning.
SATURDAY
10 a.m. - On a fine day foodies come from as far afield as Gloucester and Bristol to visit Bath's farmer's market to sell and buy local produce. But even if you don't intend to buy any of the meats, cheeses, vegetables or mouth-watering baked goods, a stroll through the stalls is worth it just for the smells, sights and free samples. The market is housed in Green Park Station, which between 1870 and the late 1960s was the city's main railway station. Make sure you arrive before noon to catch the main hustle and bustle, then head over to the Green Park Brasserie & Bar for a caffeine boost to flush away any groggy remnants from the night before. (http://www.greenparkbrasserie.com/)
12 p.m. - Bath's trademark "Crescent" is a residential road of 30 houses, designed by the architect John Wood the Younger and constructed between 1767 and 1774. Over the past 100 years it has been home to numerous historical figures, including Marie-Louise princesse de Lamballe, the lady in waiting to Queen Marie Antoinette, Prince Frederick, Duke of York and Albany, and explorer Thomas Falconer. Today most of the houses are privately owned. Number 1 is a museum run by the Bath Preservation Trust. (http://www.bath-preservation-trust.org.uk/)
After admiring the curved facades and strolling across the ha-ha in front of the Crescent, walk along Brock Street toward The Circus -- another example of great Georgian architecture -- before heading down to the Porter Bar, the most creative vegetarian pub in town, for a light lunch. (http://www.theporter.co.uk/)