Passing on your wisdom: Volunteering as a youth mentor or tutor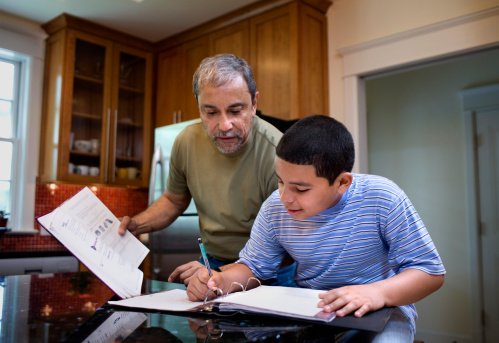 Every nine seconds in America, a student becomes a drop out. That's a pretty shocking statistic. Even more shocking? For many of these at-risk students, the drop out problem began when they struggled to master basic reading and math skills in elementary school.
"We're seeing a snowball effect, where early struggles to gain confidence in reading and math put students further and further behind," said Woody Hosler, a Program Manager with Volunteers for America. "Early intervention is key, and senior volunteers can make a tremendous difference."
As retired or semi-retired Americans, we're in a unique position to put a lifetime of experience and skills to work for at-risk youth who most need our help.
For a generation inspired by President John F Kennedy's famous call to action -- "Ask not what your country can do for you -- ask what you can do for your country" -- volunteering with children is a natural way to give back and stay active in our communities. In fact, over 19 million older Americans -- one in four adults age 55 and older -- work on volunteer projects each year.
Sure, we may need a tutorial from the grandkids on how to use all the new features in our smart phones, but our reading and math skills are plenty sharp.
Whether you volunteer on a weekly basis or just a few times every year, you can make a tremendous difference in a child's life by helping him or her master basic reading and math comprehension skills.
For at-risk children struggling with reading and math skills, early intervention is critical. For example, by fourth grade, 83% of at-risk children are failing basic reading proficiency tests.
"All too often, at-risk youth are packed into over-crowded classrooms with limited opportunities for one-on-one assistance," said Hosler. "For children receiving tutoring assistance from older volunteers, we see gains across the board, regardless of gender, ethnicity, or even socioeconomic status."
When we tutor children in reading or math, we do more than simply help them master basic learning concepts. Tutoring is also a unique opportunity to pass on a lifetime of knowledge and lessons and serve as a student mentor.
And volunteering does more than just help at-risk students become stronger students.Tutoring requires social and mental skills that keep our minds sharp and enhanace our overall well being.
"Working with at-risk youth has given me a new sense of purpose," said Becky K., a retiree and Washington, DC-based reading volunteer. "I have a place to be every week and a classroom of children that depend upon me."
More than two decades of health research shows that volunteers are healthier and happier, with lower rates of depression and disease.
Ready to get involved and start volunteering with children? To learn more about the volunteer projects in your community, check out Volunteers of America, Experience Corps, and Senior Corps, a program of the Corporation for National and Community Service.
Content Provided by Spot55.com