4 yoga retreats that will help your mind, body and soul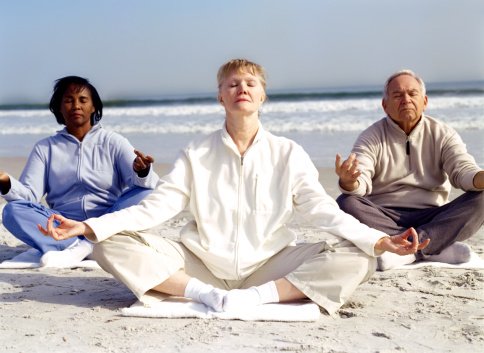 If your last mad dash through Disneyland left you feeling depleted, maybe it's time to re-conceptualize the whole vacation thing. Instead of rushing from landmark to landmark, trying to cram everything in, why not spend your vacation bolstering your mind, body and soul at a yoga retreat? There are yoga retreats catering to everyone from eager-to-learn, but stiff-as-2x4 beginners to twisty noodle yogis. Many yoga retreats offer self-discovery, spirituality and nutrition classes, meditation, stunning scenery, great natural food, opportunities to meet people, and a chance to relax and rejuvenate from the inside out. It can also be a great way to find inner strength and self-awareness, especially when you come to a fork in the road of your life. Consider one of the following four yoga destinations for your next vacation:
Big Sky Yoga Retreats, Bozeman, Montana -- How about yoga on horseback with an incredible mountain backdrop? Just north of Yellowstone, the Double T River Ranch is set within the Madison Mountains and provides several different yoga retreats throughout the year, mostly catering to women. Warmer months include Cowgirl Yoga Camp where yoga sessions happen under the Big Sky and participants cook dinner over an open fire, while the winter season includes massage, cooking lessons, snowshoeing, Nordic skiing and other workshops. They offer a combination of yoga styles including Ashtanga yoga, Restorative yoga and Vinyasa Flow.
Sewall House Yoga Retreat Center, Island Falls, Maine -- Stretch your body and your mind at a grand northern New England B&B once frequented by Teddy Roosevelt. Offering a mix of yoga styles for all skill levels (Kundalini Yoga, Restorative, Hatha Yoga, Vinyasa, Ashtanga Yoga), the Sewall House runs a steady flow of yoga retreats from May through October, but they also offer individualized retreats during the off-season. Close to Mattawamkeag Lake, Pleasant Lake and Baxter State Park, there are ample opportunities for reflection, meditation and outdoor enjoyment away from the rush of the daily grind. They also pamper their guests with massages, spa treatments and vegetarian home cooking.
7 Centers Yoga Arts, Sedona, Arizona -- The high desert of Arizona can be an awe-inspiring setting for deepening your yoga practice. Although 7 Centers doesn't include onsite lodgings, all of their yoga retreats are tailored to the individual's preferences and needs, and can last for a few days to a few weeks if needed. They welcome all skill levels to their classes, which range from Hatha Yoga to Yin Yoga, as well as Community Yoga and Family Yoga. They also offer a 30-day immersion class in the connection between yoga and Ayurvedic living, which deals intensively with how nutrition affects the health, and how it can be used to heal and revitalize the body, mind and soul.
Yoga Oasis, Big Island of Hawaii -- It's yoga in paradise! Nestled within the lush Hawaiian rainforest, and not two miles from black sand beaches and lava-heated healing pools, they provide Chi Hatha Yoga retreats for groups, or individuals. Aside from yoga, they offer a Hawaiian traditional massage called Lomi Lomi, a heated water massage called Watsu, a 6-day detoxification program, cooking classes and Hawaiian traditional courses that help you get in touch with your healing powers from within, Aloha-style.
So let yourself breathe deeply and be well. Step out of the insanity and explore one of these rejuvenating yoga retreats on your next vacation.
Content Provided by Spot55.com