Planning and hosting a regional fare dinner party for your friends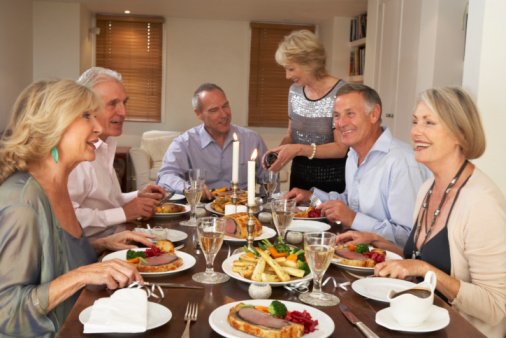 A dinner party is really just an excuse to celebrate our friendships in what can otherwise be a hectic life, and one truly great way to do this is by exploring American culinary roots and the exciting plethora of regional American food ways.
The East Coast
Dive into the traditions of New England regional cooking: clam chowder, lobster rolls, succotash, baked beans and brown bread, or Waldorf salad could await your guests. And a dessert could feature maple syrup, or maybe an apple pie with sharp cheddar cheese. Regional fruits--or their derivations--can include cranberries, blueberries and grapes. Other fun menu options include Philly cheese steak; Buffalo wings; Reuben sandwiches; Maryland's crab cakes; and New York style hot dogs, pizza and cheesecake.
The South
Drift further south, and you'll know that Southern cooking isn't just about the grits. Other classics include fried chicken; buttermilk biscuits; cornbread; black-eyed peas; turnip, collard or mustard greens; fried green tomatoes; fried okra; watermelon; candied yams; catfish with hushpuppies; country ham with red-eye gravy; and pit barbecue. Deep South dishes include gumbo or jambalaya. Your dessert could be a fruit cobbler; or a type of pie, such as shoofly, chess, sweet potato, pecan, or peach.
The Midwest
Midwestern regional favorites are wonderful entertainment choices, too. Barbecue cooked up Kansas City style is wonderful. Bratwurst, anyone? Chicago-style hot dogs and deep-dish pizza are crowd favorites, or you could serve up some chili Cincinnati style--don't forget the spaghetti! Other regional staples include corn-on-the-cob and wild rice. Throw a tasting party with an assortment of Wisconsin cheeses.
The Southwest
Think of the Southwest, and you're probably thinking of the blend of flavors produced by the fusion of Native American, Mexican, and ranch-style cooking. Some regional stars include chili verde, chili rellenos, and chili con carne. (Is there a theme here?) Other favorites include tamales, chimichangas, quesadillas, tacos, nachos, Texas style barbecue, fajitas, enchiladas, burritos, guacamole, salsa, and pozole--a main dish soup comprised of chili, pork and hominy. Tap into the chuckwagon tradition by adapting dutch-oven recipes, such as dutch-oven potatoes, to cook in a covered casserole in your oven at moderate heat. Choices for dessert include a variation of flan, the caramelized sugar baked custard; or Pastel Tres Leches, Three Milk Cake.
The Pacific Northwest
Bring the riches of the Pacific Northwest to your table by serving your guests grilled or smoked salmon, Rocky Mountain rainbow trout, or shellfish, such as oysters, crabs, and clams. Other delicacies include mushrooms; Idaho's potatoes; and game, such as elk, moose or caribou. Highlight the region's fruit, including succulent berries, pears and apples, in your dessert course.
The West Coast
California offers an amazing variety of fresh produce, along with culinary contributions from its immigrant cultures. Favorites include Cobb salad, and cioppino or minestrone. It's here that nouveau pizzas were created, perhaps topped with goat cheese, arugula, or roasted vegetables. Serving a fresh salad? Top it with green goddess or ranch dressing, both concocted here. Fish and shellfish are ambassadors of the area, and carry a variety of Asian flavors beautifully. Finish off the meal with your choice of fruit and maybe some seasoned, roasted almonds.
The Hawaiian Islands
Hawaiian cuisine is fusion cooking at its essence; the native dishes saw influences from Chinese, Japanese, Filipino, Korean, American, Polynesian and Portuguese immigrants. With that said, it's still fun to host a Hawaiian luau, complete with rice, glazed chicken or roasted pork, and plenty of fresh fruit.
Content Provided by Spot55.com