A food lover's travel guide through Europe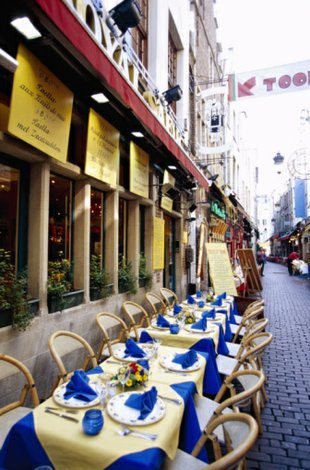 For many people, the best part of traveling is trying out new types of food. Some may scoff at the idea of going on a vacation just to stuff your mouth with frogs legs or wiener schnitzel, but the truth is, cuisine is one of the best ways to get to know a culture. Think about it: Some of the greatest social traditions take place around the dinner table.
If you want to get in touch with the cultural flavors of Europe, the best way to do so is by taking a food vacation. Whether you deem yourself a hardcore foodie or a fast food devotee, you'll love the varied selections available on every street corner. As a food vacationer, you may choose to purchase Europe tour packages, hire Europe travel guides, or take the plunge on your own. Either way, you'll definitely want to check out the following gems of European cuisine.
Amsterdam
You don't need to visit the Red Light District to find something hot in Amsterdam. Just stop by one of the city's many authentic Dutch restaurants. The typical fare in these eateries includes potato soup, meatballs, apple pancakes, and several varieties of smoked fish. If you're feeling adventurous, be sure to get a bite of roast pigeon or hare stew. One of the best spots for traditional Dutch cuisine is Moeders. With a name that is Dutch for "mothers," the restaurant possesses the homey style that only a mother could achieve.
Brussels
Only two hours from Amsterdam, Brussels is the perfect place to make a second stop on your European food tour. The city is home to some of the best chocolate on Earth. Popular chocolate shops include Leonidas Chocolates, Frederic Blondeel, Laurent Gerbaud and Chocopolis. While you're visiting Brussels, be sure to wake up early and grab some authentic Belgian waffles for breakfast.
Greece
It may be the current site of a debt crisis, but Greece remains a favorite food destination of Europe travel guides. Have you ever had an amazing gyro? Multiply the taste by 10 and you'll get the idea of how delicious an authentic Greek gyro tastes. Although the food is delicious, the best part of Greek cuisine is the atmosphere -- Greek restaurants serve as a gathering point for locals and visitors, young and old.
Budapest
With a huge smorgasbord of flavors, it is impossible for visitors to remain hungry in Hungary. Budapest is the nation's official capital, but it is also the food capital of Eastern Europe. The Magyars (the primary ethnic group of Hungary) are passionate about soups and stews. You'll find the typical Hungarian menu filled with selections such as sour cherry soup, hot fish soup, goulash, and paprika stew. Magyars are equally passionate about pastries and desserts. If you visit Budapest, be sure to try palacsinta. These delicious pancakes are flambé in dark chocolate sauce and stuffed with walnuts.
It would take a lifetime of touring to even scratch the surface of Europe's delectable cuisine. It is impossible to see or taste it all, but you can have an excellent gastronomical experience by simply walking down the street in one of the aforementioned European cities.
Content Provided by Spot55.com