Must-have kitchen gadgets for cooks with arthritis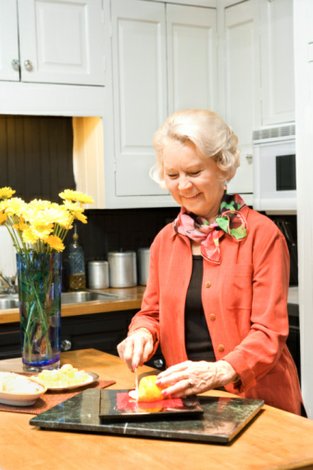 Unscrewing the stubborn top of a jar can strain anyone. But for those of us with arthritis, performing that simple act is practically impossible. In fact, many routine actions we once did without thinking--slicing, dicing, removing lids, grating--are now painful tests of strength. Increasingly, though, there is life--and cooking--after arthritis. Many manufacturers have responded to the aging population with gadgets great and small that makes it easier and less painful to make our way around the kitchen.
Tops off!
Black & Decker's Gizmo can opener is praised as a must-have by bloggers and on arthritis-related websites. Durable, light and extremely easy to use, this hands-free gadget is a cook's boon. Black and Decker also makes a reliable, easy-to-use jar/lid opener that users claim can take the top off everything from juice bottles to jelly jars. And its electric knife eliminates the need for painful pressure and sawing motions on that holiday turkey or roast.
Battery-operated vegetable peelers are also high on the arthritic cook's wish list. Many brands are out there, including a number touted in TV infomercials. Something sturdy, with a sharp blade, is essential. One stands out: the colorful Zyliss oscilatting vegetable peeler. This battery-powered wonder from the acclaimed Swiss kitchenware firm is even featured on oprah.com. Zyliss also offers a range of ergonomic, albeit not battery-operated, kitchen tools at zylissusa.com.
Slice and dice
Slicing, cutting, chopping and grating can be not only difficult but dangerous for arthritic hands. It's hard enough to slice an English muffin or bagel to fit the toaster slots without nicking fingers. Happily, Larien's Bagel Biter does the job safely, requires little pressure and keeps fingers protected. The bagel or muffin is positioned within the Biter; all the cook needs to do is press the guillotine-like blade down.
Chef'n's Garlic Zoom and Garlic Peeler will peel cloves, then mince them in minutes, hands-free--and the quirky product designs perk up the gadget drawer. Chef'n's Ergosphere line of kitchen tools includes whisks and spatulas that fit nicely in the hand. Good reports also surround the company's new PepperBall and SaltBall grinders, which require only pressing together two levers to grind spices.
The CucinaPro suction-cup cheese grater mounts on a counter top, and stays put, thanks to a base with strong suction cups. The two stainless steel, interchangeable drums are easy to work with. The fine drum takes care of hard cheeses like parmesan reggiano, blocks of chocolate and even nuts. The coarse drum makes short work of softer cheese and veggies.
Get a Grip!
No discussion of arthritis-friendly kitchen items would be complete without OXO Good Grips. Developed by the company founder to help his wife, whose arthritis made it difficult to use ordinary tools, OXO's kitchen products are ergonomic, affordable and widely available--most major chains stock them. The one-handed salad spinner is a particular standout, requiring almost not effort, while its rolling pin has contoured, weighted handles that keep hands high and knuckles away from countertops.
Content Provided by Spot55.com