Top 10 annual art and music festivals in the United States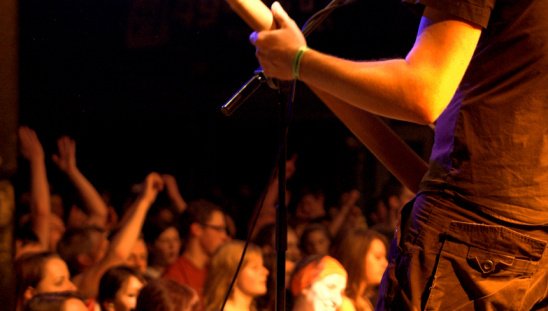 Some people say that life begins at 40, but anyone who's ever been through it knows that things don't really kick into gear until after retirement. This is the time of life when you're finally free to pursue your interests with a freedom you've never had before, and to discover new passions. The following 10 annual art and music festivals are a great place to begin that discovery.
Squaw Valley Art, Wine and Classical Guitar Music Festival -- If you're an art lover and you're always looking for excuses to go to Lake Tahoe, you're in luck. If you're a wine lover, you're even more in luck. Classical guitar? Who doesn't love that? Mix 'em all together, charge nothing for admission, and you get a slice of heaven on earth in this yearly event.
SXSW -- The South by Southwest (SXSW) Music Festival takes place every year in Austin, Texas, and coincides with the film festival of the same name. You don't have to be under 30 or even a fan of contemporary music to appreciate the exhilarating vibe here. Each year the festival attracts a diversity of eclectic music performers, and it is not to be missed by anyone with even remotely experimental musical tastes.
Park City Kimball Arts Festival -- Wintertime during the Sundance Film Festival isn't the only happening time of year in Park City, Utah. Every summer, the Kimball Art Center hosts an arts festival that brings in hundreds of artists and thousands of attendees from all over the world .
Telluride Bluegrass Festival -- You don't have to have a love for bluegrass music to have a great time here. There are actually plenty of high-profile, non-bluegrass acts that perform at the festival every year, with past performers including Robert Plant, Emmylou Harris and Sarah McLachlan. But if you're a hardcore bluegrass fan, don't despair. There's plenty of that, too.
Utah Shakespeare Festival -- Having been in annual operation for a half century, the growing popularity of the Utah Shakespeare Festival is enough to make the Bard himself glow with pride. Every festival features full-length plays in addition to general festivities and even seminars.
Half Moon Bay Art and Pumpkin Festival -- If you like to mix your art with pumpkins and love the general fall fever that arrives every October, you could do a lot worse than be in Half Moon Bay, California, for a festival that blends the two together and is one of the state's longest running annual events.
Philadelphia Museum of Art Craft Show -- Widely considered to be one of the most exclusive craft shows around, this is one place where you won't see any kitsch. Held indoors at the Pennsylvania Convention Center, you'll also be a stroll away from the art museum's famous front steps if you're of a mind to experience a Rocky movie moment.
Renfaire -- Claiming to be "the original" renfaire experience, the Southern California Renaissance Pleasure Faire is a celebration of all things medieval, offering great food, games and rides for the young ones, reenactments, and loads of interesting costumes.
Bayfest -- If you never thought that Mobile, Alabama, could be this interesting you've probably never visited. The fact is, Mobile is one city you should take the time to visit--especially during Bayfest, a yearly music festival that attracts over 200,000 visitors and features an incredible diversity of musicians, from pop luminaries to country stars to obscure local blues acts.
Ann Arbor Art Fairs -- That's right: Fairs. As in "more than one." If you've never had your head spun around by sheer volume of incredible art, you might want to limber up your neck muscles prior to heading to Michigan for this yearly smorgasbord of creative invention. But make your reservations in advance, as the combined total of visitors often exceeds the half-million mark.
Content Provided by Spot55.com