Waters recede across East, but storm victims suffer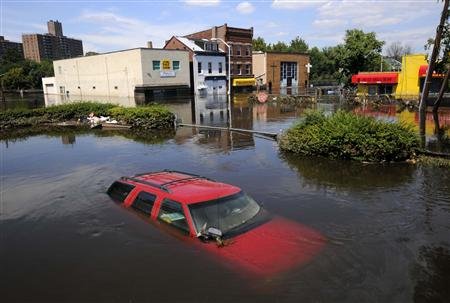 By Grant McCool
MILLBURN, New Jersey (Reuters) - Floodwaters finally started to recede from areas of the northeast devastated by Hurricane Irene but many communities were still underwater on Wednesday and relief workers battled cut-off roads and raging rivers to deliver emergency supplies.
The storm battered the East Coast with up to 15 inches of rain on Saturday and Sunday. River levels set records in 10 states, and some waterways had not yet crested on Wednesday, the U.S. Geological Survey said.
Wide swathes of New Jersey, upstate New York and Vermont were still under water, and the Federal Emergency Management Agency said it had to put long-term projects on hold and focus on rushing immediate relief to battered states because it had only $800 million left in its disaster relief fund.
Some 1.8 million homes and business were still without power after as many as 6.7 million had lost electricity.
With damage in the billions of dollars -- Standard & Poor's estimated the national total at $20 billion, though others have put the number at half that -- homeowners were also battling insurance companies that exclude flood damage coverage.
New York state alone suffered $1 billion in damage with 600 homes destroyed, six towns inundated and 150 major highways and 140,000 acres of farmland damaged, Governor Andrew Cuomo said.
"Sometimes the bottom line is the bottom line. We need help on the economics," Cuomo said.
Disaster relief has reignited Washington's budget battles, with some Republicans saying additional spending to help these communities should be offset by cuts elsewhere in the budget.
The widespread flood damage brought personal and economic catastrophe to homes and business in rural villages and larger towns alike. Stories of devastation and hardship abound.
In Millburn, New Jersey, entire businesses were destroyed in the post-storm flooding, and cleanup crews piled debris onto the sidewalk on the main street.
Water in a canal running through town swept right into the Mexican restaurant Tinga, which faces a month of repairs and cleanup before it can reopen, co-owner Dana Crowe estimated.
"It filled my basement up and pushed up the floor. A river runs through it," Crowe said, referring to the 1992 Robert Redford movie. "This is the sequel to 'A River Runs Through It.'"
FLOATING REFRIGERATORS
In the town of Paterson, where hundreds of people had to be rescued by boat or truck, the Passaic River on Tuesday measured 13 feet above flood stage, the highest level since 1903, said Paterson police Sgt. Alex Popov.
Passaic floodwaters were receding on Wednesday, said James Furtak, the acting emergency management director of Bergen County. He said town such as Wallington, population 11,000, were starting to recover, thanks in part to volunteer firefighters who left their own families to help others.
"You had couches floating, refrigerators floating," Furtak said. "It flooded streets that never got flooded before. Some people lost everything. Their lives."
In Vermont, relief teams worked around the clock to repair washed out roads, drop off emergency supplies to stranded residents and restore electricity to thousands who have been without power since Sunday.