Record-breaking river flooding swamps New Jersey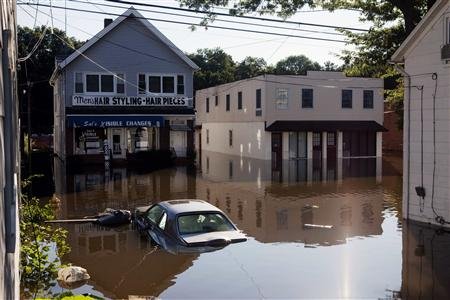 By Grant McCool
WAYNE, New Jersey (Reuters) - Swollen rivers submerged stretches of northern New Jersey on Tuesday, damaging homes, flooding roads and stranding residents, hundreds of thousands of whom had no electrical power.
Authorities said rivers including the Passaic, Ramapo and Pompton were overflowing from heavy rains and storm surges left behind by Hurricane Irene, which hit the state on Sunday.
The Passaic crested in Fairfield, New Jersey, overnight at 24.12 feet, breaking the record set in 1903 of 23.2 feet, said Fairfield Deputy Police Chief Anthony Manna.
Fairfield is surrounded on three sides by the curving Passaic, and National Guard troops were using boats to rescue stranded residents stranded by the floods, he said.
"I believe it's going to continue well into Wednesday," Manna said.
In Paterson, where the Passaic slices through the city with dramatic waterfalls, hundreds of residents were taken to a shelter as the torrential waters threatened to destroy their homes, authorities said.
The Passaic was some 13 feet higher than flood stage, said Paterson Police Sergeant Alex Popov.
"It's raging," he said, but added that the river was expected to begin to recede later in the day.
In Wayne, where major roads were blocked due to flooding from the Passaic, Mike Holland paddled a canoe from his home on Trovela Drive, where parked cars were almost completely underwater.
"This is the worst one," he said, having survived several floods in the neighborhood.
Nine river locations reached or surpassed record flooding levels across northern New Jersey, Governor Chris Christie said at a media briefing on Tuesday.
The New Jersey Office of Emergency Management said the state had registered seven deaths related to Irene.
Marguerite Ball, another resident of Wayne, described the flooding as "heartbreaking" for the working class area which tends to flood from the Passaic and the nearby Pequannock River as well.
"People just get cleaned out, cleaned up, rebuild and it happens again and again," she said.
In West Caldwell, many roads were impassable, thanks to the Passaic.
Textile company worker Joe Dilizia, 70, said he could not get to his job because a section of Bloomfield Avenue had been transformed into a small lake.
"I guess I'm going to head home and wait a couple more days," Dilizia said through the window of his car. "It all depends on the river as it starts to recede."
State utility Jersey Central Power & Light said more than 240,000 customers were without power, and PSE&G said 70,000 customers of its New Jersey customers still had no power on Tuesday.
(Additional reporting by Dave Warner in Philadelphia; Writing by Ellen Wulfhorst, Editing by Jerry Norton)