Celebrate the Arts
Best Bets for the 2011-2010 Season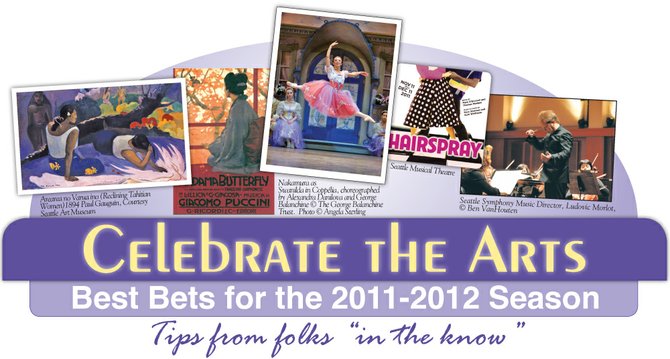 Music
Bryan Lowe, Program Director for KING FM 98.1, provided these recommendations for upcoming musical performances:
Give Yourself the Gift of Great Music!
It's time to celebrate the beauty that is the NW arts scene! There are literally hundreds of concerts, with ticket prices from high to low, featuring great classical music in the area, including some truly "don't miss" concerts!
This coming season marks the debut of Ludovic Morlot as Music Director of the Seattle Symphony. There's certainly something for everybody, from SSO Pops conductor Marvin Hamlisch, to concerts celebrating Sci-fi, to our local classical superstar Joshua Roman. There's a new project called Sonic Evolution, an innovative concert concept that celebrates the past and future of Seattle's music scene. Audiences will hear up-and-coming Seattle band Hey Marseilles, plus new symphonic works by emerging American and international composers inspired by Seattle music legends including Jimi Hendrix, Quincy Jones and Nirvana. 98.1 Classical KING FM broadcasts thirteen Seattle Symphony concerts on the radio every year.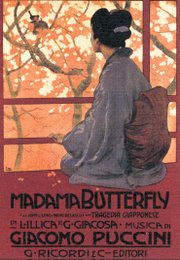 It's a big year for the Seattle Opera as well, with a season filled with opera favorites. I just about have to give up on choosing one opera here… just buy season tickets! Don't miss their production of Carmen by Bizet. Great tunes, great sets, great story. The romantic tear-jerker Madama Butterfly is another must see opera for new attendees as well as long time fans. As Seattle Opera General Director Speight Jenkins says, "It's going to be a great show, don't miss it!" Really, don't! By the way, you can hear live broadcasts of every Seattle Opera production on 98.1 KING FM and on our new KING FM Seattle Opera Channel, bringing you opera 24/7 online at KING.org.
I've had to leave out quite a few great concerts for lack of space, but let's focus on classical music favorites for Christmas, as this is a time of year when KING FM has more listeners than ever. Classical Christmas music is glorious. Pacific NW Ballet does the Nutcracker, a seasonal don't miss favorite. (They are also doing another family favorite this year... Delibe's Coppélia.) We've enjoyed the ballet so much we broadcast their concerts live on KING FM, too!
Another Christmas favorite is Handel's Messiah, a must see work at some point in your life. If you want big, be sure to go to the Seattle Symphony performances, but there are many others well worth seeing as well. Seattle Pro Musica, one of my favorite groups, is set to perform A Celtic Christmas. There are some wonderful children's choirs in the area, and the holiday's are the perfect time to hear them, especially the Seattle Girls and Seattle Boys Choirs.
To get a closer look at all of these great groups as well as musical previews of upcoming concerts, tune in to 98.1 Classical KING FM's NW Focus, heard weeknights at 8pm. We also preview concerts on what has to be the world's only on-demand arts resource, our online KING FM Arts Channel On-Demand, at King.org. This channel spotlights artists, art experts and those working behind the scenes in the arts via conversations, interviews, readings, performances, and features covering all fine arts disciplines.
We will see you in the concert hall!
Art
Brenda Tipton, publisher of Art Guide NW, provides these "best bets" for the NW visual arts world:
Sure to be a hit in the coming year is Gauguin and Polynesia: An Elusive Paradise, on view February 9 through April 29, 2012 at the downtown Seattle Art Museum (SAM). According to SAM, "The show will display about 60 works by Gauguin (paintings, sculpture, works on paper) that fully reveal the extent of the influence of Polynesian art and culture on his work. It will also highlight about 60 works from the Pacific that exemplify the dynamic exchanges of Pacific Island peoples with Europeans throughout the nineteenth century."
On view from March 15 through August 5, 2012 at the Seattle Asian Art Museum in Volunteer Park, Colors of the Oasis, Central Asian Ikats. Some 40 colorful robes created during the 19th century using the labor intensive process of ikat will be on view. SAM's renowned collection of Chinese art was started by Dr. Richard Fuller, the founding director of the Seattle Art Museum, in the early 1900s and contains representative works from each dynastic period with particular strength in jades, ceramics and sculpture. If you've never been to this museum before, it's a great place to visit with its beautiful grounds and great view of the city, and the marvelous collections inside.
The Frye Art Museum, located at 704 Terry Avenue, Seattle's only free museum, is featuring Isaac Layman, Paradise, on view from November 19 through January 22. This is the first museum exhibition of work by one of Seattle's leading artists: Isaac Layman. Layman's photographic work has garnered increasing attention across the United States and earned reviews on National Public Radio, in leading journals, and museums across the country.
Hungry Planet, What the World Eats, will be showing from January 28 through May 10, 2012 at the Burke Museum of Natural History and Culture on the University of Washington campus. Based on the book of the same title by Peter Menzel and Faith D'Alusio, this unique exhibit features families around the world from 10 countries through photographs where they are surrounded by a week's worth of groceries.
From October 29, 2011 through February 12, 2012, the Bellevue Arts Museum will showcase George Nelson: Architect, Writer, Designer, Teacher. As design director for Herman Miller, Nelson invented numerous classics of modern furniture and interior design. Featuring more than 220 objects, including furniture, lamps, clocks, graphic works, architectural models, films, prints and a full-scale partial reconstruction of the 1959 American National Exhibition in Moscow, this retrospective renders a comprehensive portrait of Nelson and his many activities, acknowledging his prominent position in the world of design over nearly four decades.
For glass lovers, Tacoma's the place to go. Since it's Chihuly's home town, the Tacoma Art Museum has an extensive permanent collection of his glass pieces always on view in their own gallery. A special treat for aficionados of all things Mexican this winter is Folk Treasures of Mexico: The Nelson A. Rockefeller Collection from the San Antonio Museum of Art which will run from October 29, 2011 through February 19, 2012.
Museum of Glass in Tacoma celebrates their tenth anniversary in 2013 with a special exhibition of glass from world-famous Italian Maestro Glass Blower Lino Lagliapietra titled Lino Tagliapietra from Murano to Studio Glass. The exhibit will run from July 7, 2012 through January 6, 2013. Because of the anniversary, there will be all kinds of extra activities and exhibits, so be sure to log on to the Seattle Art Blog at www.seattleartblog.com to stay informed. While you're at the museum, make it a point to stop in the Hot Shop where you'll usually find glass artists at work.
About an hour north of Seattle in the town of La Conner, is the Museum of Northwest Art, possibly the only museum in the state devoted strictly to Pacific Northwest artists. Their growing collection includes over 2,500 art objects from the early 1900s to the present day. Continuing further north stop off in Bellingham to explore the Whatcom Museum and more NW art as well as American art from the middle of the 19th century to the present.
Nearly every city and small town throughout our area has a monthly art walk these days where the galleries and museums are open later at night. Art walks are a great opportunity to mix and mingle with artists and gallery owners who are opening new shows or showcasing all their artists' work. First Thursday in Pioneer Square is probably the biggest art walk in the state and has a festival atmosphere with surrounding businesses open to accommodate the crowds. It's fun, and, like all art walks, it's free. For a complete list of all galleries in Western Washington, check out www.seattleartguidenw.com on the web or look for the hard copy in a museum or gallery. For daily art information, log onto www.seattleartblog.com where I religiously post current openings along with pictures and a blurb about the shows.
Each August when I write this column for September publication, I always try to include as many museum exhibits as space allows. You might notice as the year goes on that I've had to leave a few important ones out, and the reason is the museum simply didn't have enough information in time for publication date.
I hope you enjoy visiting the museums and galleries in Washington. Believe me when I tell you they will be glad to see you. Enjoy!
Theatre
Karen J. Zeller Lane, Executive Director of Theatre Puget Sound—an organization dedicated to nurturing a healthy theatre community, provided a "Best Bets" list of theatre events:
Modern & New
Cryptogram Seattle Public Theater, 9/30/11 – 10/23/11
Hairspray Seattle Musical Theatre 11/11/11 – 12/12/11
The Callers Washington Ensemble Theatre 1/13/12 – 1/30/12
I Am My Own Wife Seattle Repertory Theatre, 2/3/12 – 3/4/12
Classic Stories
An Ideal Husband Taproot Theatre 9/23/11 – 10/22/11
A Midsummer Night's Dream Seattle Shakespeare Company, 10/20/11 – 11/13/11
Cinderella 5th Avenue Theatre, 11/21/11 – 12/31/11
The Odd Couple Village Theatre, 1/18/12 – 3/25/12
Something for the Holidays
A Christmas Carol ACT Theatre, 11/25/11 – 12/24/11
Owen Meany's Christmas Pageant Book-It Repertory, 11/29/11 – 12/23/11
Every Christmas Story Ever Told (And Then Some) ArtsWest, 11/30/11 – 12/24/11
It's Your Wonderful Life Jet City Improv 12/1/11 – 12/23/11
This October, Theatre Puget Sound presents Arts Crush - 31 days of creative adventures in art, literature, music, theatre, dance, film & more! There will be hundreds of free events, special discounts and once-a-year interactive arts opportunities for all ages. Arts groups, artists and audiences from all over the Puget Sound are joining together to explore, excite, challenge and GET CRUSHED. For a full schedule of events and more information go to artscrush.org.
Theatre Puget Sound (TPS) is a leadership and service organization founded in 1997 to advocate for the region's growing theatre community's causes and administer much-needed services. TPS is now the Northwest's premiere arts advocacy and leadership organization. TPS has a two-fold mission: To promote the spiritual and economic necessity of theatre to the public, and to unify and strengthen the theatre community through programs, resources, and services. TPS serves more than 1,500 theatre artists and organizations in our region. Theatre Puget Sound supports local theatre all Around the Sound with the most comprehensive calendar of live theatre performance at www.seattleperforms.com