Vermont, New Jersey flooded as Irene spares NYC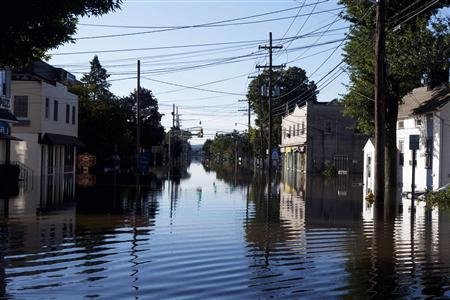 By Christine Kearney and Scott Malone
FAIRFIELD, N.J./BRATTLEBORO, Vermont (Reuters) - New Jersey and Vermont struggled with their worst flooding in decades on Monday, a day after Hurricane Irene slammed an already soaked U.S. Northeast with torrential rain, dragging away homes and submerging neighborhoods underwater.
The massive storm churned up the U.S. East Coast over the weekend killing at least 38 people in 11 states, in addition to three who died in the Dominican Republic and one in Puerto Rico when the storm was still in the Caribbean, authorities said.
Spared from Irene's worst fury, New York City went back to work on Monday despite a partially crippled mass transit system and power outages that left 100,000 customers in the metropolitan area and nearly 1 million in the state without electricity.
Overall, some 5.1 million homes and businesses were still without power from North Carolina to Maine, and utilities said it could take days to restore electricity in more accessible areas and weeks in the hardest-hit regions.
Total economic damage could reach $20 billion, Standard & Poor's Senior Economist Beth Ann Bovino said. Hundreds of thousands of homes suffered damage, raising questions about how much would be covered by insurance as many homeowner policies do not cover flood damage.
In Fairfield, New Jersey, about 20 homes near the Passaic River were submerged, some in at least five feet of water. Some people waded chest high or rode canoes down the street, while others just sat and witnessed the flood from their stoops.
"This is the worst flood we have ever had," said Mike Chiafulio, 52, who could only watch as the water continued to rise around his mother's house. He said the flooding exceeding what he remembered from notable floods in 1968 and 1984.
The leafy suburb of Maplewood some 20 miles west of New York City was jarred by the sound of whirring generators, sirens and pumps emptying water from flooded houses.
Hundreds of thousands of people in New Jersey could be without electricity, water supplies or gas for days to come, their comfortable towns strewn with felled trees and branches blocking main roadways.
"We've had major rains before but we've never had flooding like this," said Ben Cohen, a retired judge who lives in Maplewood. "I can only vouch for the last 38 years but nothing even can come close to this."
In the town of Whippany, firefighters trained in swift water rescue pulled two youths out of the raging Whippany River, Deputy Fire Chief Randy Polo said.
Dumped from a raft at a man-made waterfall in the river, one teen was clinging to a log and the other to a broken tree limb in the thundering current, Polo said. The rescue took about an hour, he said.
"They were grateful, to say the least," Polo said.
OBAMA PLEDGES AID
"It's going to take time to recover from a storm of this magnitude," President Barack Obama told reporters in Washington. "The effects are still being felt across much of the country, including in New England and states like Vermont where there's been an enormous amount of flooding.