Insight: DePuy's handling of hip recall sparks questions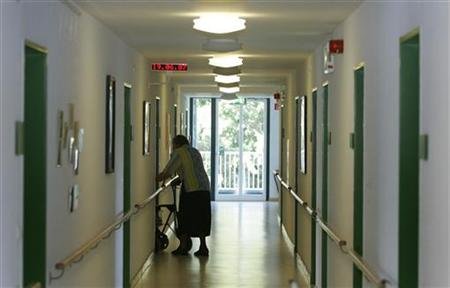 By Toni Clarke
BOSTON (Reuters) - Johnson & Johnson, which could face billions of dollars in costs over an artificial hip recall, is taking an unusual approach to managing the crisis -- one that could limit its financial exposure, legal experts say.
J&J's DePuy Orthopaedics Inc unit recalled its metal ASR hip system a year ago after it failed at a higher-than-expected rate, with some patients experiencing pain, swelling, joint dislocation and sometimes systemic damage to the central nervous system, thyroid and heart.
The company now faces more than 2,000 lawsuits in state and federal court in the United States.
In a highly unusual move, DePuy has hired a third party -- Broadspire Services Inc, which manages workers compensation and other medical claims on behalf of insurance companies and employers -- to administer patient claims for out-of-pocket medical costs associated with the recall.
The move has prompted debate among industry and legal experts. Some see it as an efficient way to outsource a process that is unrelated to making artificial hips. Others see it as a way for J&J to limit payments while gaining control of medical records and other material that could be used against patients in court.
In general, companies and their lawyers handle recalls directly. They answer patient queries and pay claims for reimbursement. Typically, companies accept a treating physician's recommendation when it comes to determining if a device should be removed or replaced.
In DePuy's case, it is Broadspire's physicians, not the patient's own doctor, who, in effect, make the final decision on whether a patient's hip should be replaced. While Broadspire physicians cannot directly override a patient's doctor in terms of treatment, they make the decision on whether to pay. That can effectively rule out surgery for patients who cannot pay.
"Doctors who are evaluating these cases are being paid indirectly by DePuy, and research suggests that even when we are very well-intentioned we can be influenced by conflicts of interest," said Kristin Smith-Crowe, associate professor of management at the University of Utah, who specializes in business ethics. "This is a bit of a red flag in terms of the way this situation is set up."
Lorie Gawreluk, a spokeswoman for DePuy, said Broadspire's role is entirely benign. The company conducts its own reviews to ensure that a patient's hip problems are the result of the recall, and not some other cause, such as a fall.
"Similar to the process insurance companies use to evaluate claims from subscribers, medical records are collected by Broadspire if a patient requests financial assistance," she said in an email. "Broadspire requires no more information than a typical insurance provider would request, and like an insurance provider, Broadspire has a team of reviewers who review claims."
EVOLVING STRATEGY
Patients and lawyers argue that the hip recall claims should not be treated in the same way as a standard medical claim. An insurance company, after all, does not decide whether to reimburse policyholders for medical costs related to a problem it caused itself. Moreover, lawyers representing patients say the amount of information being collected by Broadspire is excessive.