Pope says priests must live saintly lives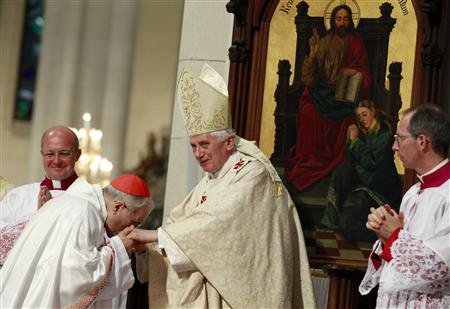 By Sonya Dowsett and Judy MacInnes
MADRID (Reuters) - Pope Benedict said Saturday Roman Catholic priests must live saintly lives and men should only enter the priesthood if they were convinced they could live by all the Church's rules, including celibacy.
On the third day of a visit that has been marked by protests, the pope celebrated Mass for some 4,500 seminarians training for the priesthood in Madrid's La Almudena cathedral.
"We have to be saints so as not to create a contradiction between the sign that we are and the reality that we wish to signify," he said in a sermon as part of activities of the Church's World Youth Day.
He said priests must understand their "decision to live in celibacy for the kingdom of heaven," adding that men should approach the priesthood only "if you are completely determined to exercise it in obedience to the Church's precepts."
The Catholic Church has been mired in scandal in recent years over disclosures that priests sexually abused children in many countries and that Church officials covered up the abuse.
On several of his trips Benedict has met abuse victims and apologized for priests' abuse, but victims' groups say he and the Vatican have not done enough to bring the guilty to justice.
The cost of the trip to the capital has angered some Spaniards struggling with recession and high unemployment. Heavy security has surrounded the pontiff, with roads cut off to traffic and thousands of police on the streets.
"The street belongs to everyone, not to one church ... I'm against the public cost of the Pope's visit," said Santiago Bonaire, a 54-year old engineer.
Demonstrations over the visit have resulted in clashes between police and protesters and there is now a large police presence in the center of Madrid.
"There have been protests in the center every night over the Pope's visit, with people chanting 'the Pope's a Nazi' and such like. But since Wednesday when pilgrims were met with angry protests and there were injuries, the police have been out in droves," said 60-year-old Englishman Richard Hunter who lives in city center.
"The center is now a mixture of prostitutes and police."
Benedict's trip has also reignited criticism by Los Indignados (The Indignants), a group whose mainly young members occupied Madrid's Puerta del Sol square in May to protest against high unemployment and government spending cuts.
Gay activists in Madrid plan to stage an anti-Pope protest to defend same sex partnerships later Saturday while Benedict attends a prayer vigil with thousands of young people from around 190 countries in an aerodrome outside Madrid.
In 2005, Spain became the third country in the world to legalize gay marriage, a move the Church opposed.
(Reporting by Judy MacInnes and Sonya Dowsett; editing by Elizabeth Piper)