Violence erupts outside London as capital waits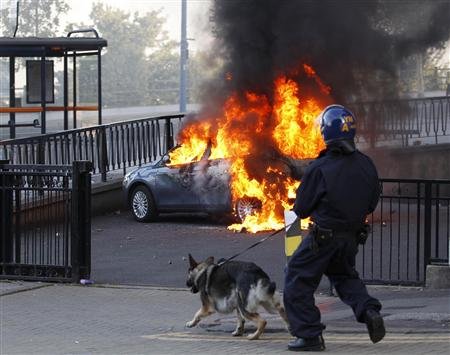 By Jodie Ginsberg and Stefano Ambrogi
LONDON (Reuters) - Riots flared in English cities and towns Tuesday night as London waited anxiously to see if thousands of police deployed on its streets could head off the youths who had rampaged across the capital virtually unchecked for three nights.
In Salford, part of greater Manchester in northwest England, rioters threw bricks at police and set fire to buildings. A BBC cameraman was assaulted.
Television pictures showed flames leaping from shops and cars in Salford and Manchester, and plumes of thick black smoke billowing across roads.
In central Manchester, police said a clothes shop was set alight. "I can confirm a shop is on fire and 200 youths that gathered in the city center have been chased by riot police and dispersed. Seven arrests have been made so far," a spokesman for Greater Manchester Police said.
Further south in West Bromwich and Wolverhampton, cars were burned and stores raided.
In London, commuters hurried home early, shops shut and many shopkeepers boarded their windows as the city prepared nervously for more of the violence that had erupted in neighborhoods across London and spread to other cities. Police promised to nearly triple their deployment on the streets.
Community leaders said the violence in London, the worst for decades in the huge, multi-ethnic capital, was rooted in growing disparities in wealth and opportunity.
Gangs have ransacked stores, carting off clothes, shoes and electronic goods, torched cars, shops and homes -- causing tens of millions of pounds of damage -- and taunted the police.
Prime Minister David Cameron, who cut short a family holiday in Tuscany to deal with the crisis, told reporters: "This is criminality pure and simple and it has to be confronted and defeated."
"People should be in no doubt that we will do everything necessary to restore order to Britain's streets," he said after a meeting of the government's crisis committee, COBRA.
Another such meeting was set for Wednesday. Cameron also recalled parliament from its summer recess, a rare move.
Cameron said 16,000 police officers would be on the streets Tuesday night, compared to the 6,000 out Monday night. London has a population of 7.8 million.
STRUGGLING ECONOMY
The unrest poses a new challenge to Cameron as Britain's economy struggles to grow while his government slashes public spending and raises taxes to cut a yawning budget deficit -- moves that some commentators say have aggravated the plight of young people in inner cities.
It also shows the world an ugly side of London less than a year before it hosts the 2012 Olympic Games, an event that officials hope will serve as a showcase for the city in the way that April's royal wedding did.
"This morning was a dark morning to wake to in London. No one should wake in this wonderful city of ours to see such scenes of devastation and violence," said Metropolitan Police Deputy Assistant Commissioner Steve Kavanagh.
Police arrested more than 200 people overnight and a total of 450 over the three nights, filling the city's cells to capacity. More than 100 police officers were injured.