Police swarm London streets to tackle unrest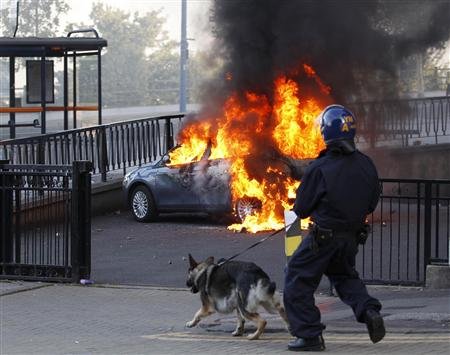 Youth gangs were reported to be coordinating their movements though social networks -- particularly secure-access Blackberry Messenger groups -- and targeting shops.
Local member of parliament David Lammy said he was asking Blackberry to suspend its messaging service.
The police have been accused of failing to bring the situation under control by going in softly to spare local sensibilities. On Tuesday, London's police said they would consider using rubber or plastic bullets.
The first riots broke out on Saturday in north London's Tottenham district, when a peaceful protest over the police shooting of a suspect two days earlier led to violence.
PRESSURE ON POLICE
Police are likely to come under fresh pressure over that incident after a watchdog said on Tuesday there was no evidence that a handgun retrieved at the scene had been fired. Reports initially suggested Mark Duggan had shot at police.
Tottenham includes areas with the highest unemployment rates in London. It also has a history of racial tension with local young people, especially blacks, resenting police behavior.
"It's us versus them, the police, the system," said one youth at a grim housing estate in the London district of Hackney, the epicenter of Monday night's rioting.
"They call it looting and criminality. It's not that. There's a real hatred against the system." His friends, some covering their faces with hoods, nodded in agreement.
Other Londoners tried to clear up the mess.
Hundreds of volunteers carrying brooms, dustpans, rubber gloves and black bags gathered in Clapham, south of the River Thames, to help clean up.
Hackney's Mare Street, scene of serious disorder on Monday night, was largely back to normal by morning, with traffic flowing and the streets swept clean. A few shops had smashed windows boarded up, including a betting shop and a cafe.
The London 2012 Organizing Committee hosted an International Olympic Committee visit "as planned" on Tuesday and said the violence would not hurt preparations for the Olympics.
However, other sporting events suffered. England canceled Wednesday's international soccer friendly with the Netherlands and three club games were also called off.
The ramifications also extended into international finance at a time when world markets are in turmoil.
"Just a few days ago we were talking about sterling as a new safe haven but these riots taking place are another blemish that must have soured anyone's taste for the currency," said Neil Mellor, currency strategist at Bank of New York Mellon.
(Additional reporting by Adrian Croft, Avril Ormsby, Jon Hemming, Sonya Hepinstall, Jon Boyle, Stefano Ambrogi, Peter Griffiths and Georgina Prodhan; Editing by Kevin Liffey)