Heat scorches South, thunderstorms in Midwest and East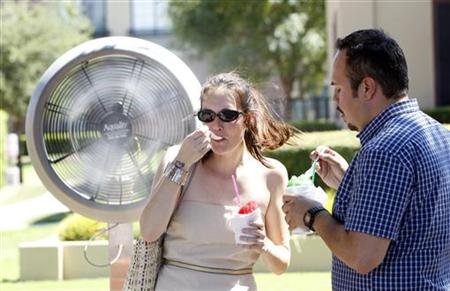 By Karen Brooks
AUSTIN, Texas (Reuters) - Severe thunderstorms are expected to drench much of the Midwest and eastern United States on Tuesday while the heat wave persists across the southern Plains and coastal Southeast, forecasters said.
A heat advisory remains in effect for much of Texas, including Dallas, which as of Monday afternoon had experienced 38 consecutive days of triple-digit heat.
With no relief to the extreme weather in sight, the city could soon break its 1980 record of 42 days in a row of 100-degree temperatures, AccuWeather.com said.
The National Weather Service also issued heat advisories in Oklahoma, Arkansas, Louisiana, Mississippi, Georgia and the Carolinas.
The Arkansas Department of Health said Tuesday that two deaths in Arkansas have officially been confirmed as heat-related so far this summer.
North Carolina farmers are used to heat, but this summer hasn't offered intervals of cooler temperatures, said Brian Long, a spokesman for the state Department of Agriculture.
"The length of the heat wave is what is wearing on everybody," Long said. "It seems like the weather wants to tease us with a break, but then it yanks it right back again."
In South Carolina, Charleston had 28 days of temperatures above 90 degrees until mid-July, a NWS forecaster said.
Even Charleston residents sought shade in the city's Waterfront Park Tuesday as heat indices that add in humidity made lower South Carolina feel like 109 to 113 degrees.
Jennifer Dungan, 38, brought her three sons to the eight-acre park to enjoy the fountains and harbor breezes.
"We were looking for something cool to do today that was free," Dungan said. "By 1 o'clock, we'll be going home."
Her 14-year-old son will have his first high school football scrimmage this week, she said. Dungan goes to practice to ensure he has enough water and breaks. "He'll have to drink six to eight liters of water before the game," she said.
Rain showers are predicted in much of the East, with a few stronger thunderstorms possible from southern Pennsylvania and southern New Jersey through Virginia and West Virginia, according to The Weather Channel.
Another round of violent thunderstorms could hit western Nebraska on Tuesday afternoon, before moving into Kansas, Oklahoma and Arkansas on Wednesday, AccuWeather.com said.
Meanwhile, some residents of Kemp, Texas, a town of less than 1,500 people about 45 miles southeast of Dallas, were still without water on Tuesday after water tanks went dry.
The town shut down its water service on Sunday when the water tanks ran dry due to drought and water main breaks. Water main breaks are more common during droughts because the ground hardens, cracks, and shifts, breaking the underground lines. Officials expected full service to be restored later Tuesday.
Walmart had trucked in palettes of water and city hall provided water only for non-drinking purposes.
Local cafe owner Cleo Brewer said crews were battling more water leaks Tuesday morning. Brewer's cafe stayed open.
"Everybody in town is upset at me because I had running water," Brewer told Reuters. "I'm downhill, and I'm on the end of the line, so my water was still running.
(Additional reporting by Ned Barnett in Raleigh, Suzi Parker in Arkansas, and Harriet McLeod in Charleston; Writing by Colleen Jenkins and Molly O'Toole; Editing by Jerry Norton)