Life, Always a Work-in-Progress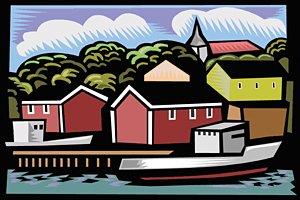 Moves, losses, divorce, death, and a variety of other challenges require transitions at any age. Sometimes, it is more difficult to go forward in our senior years, but life goes on. We must strive to cope, face the challenges and difficulties while striving to find and enjoy the positives as we continue this work-in-progress called life.
My own experiences over the past two years provide a classic example of coping with the lemons life sometimes throws at us. An unexpected divorce led me to live a gypsy lifestyle for a time. I lived with my adult children in Washington state and northern California, and later traveled to Arizona, Alaska, and the British Isles as I explored new perspectives and tried to determine what I wanted to do next.
Then, word of my brother-in-law's illness took me to assist my sis with his and our mother's care. Family always comes first in most of our lives. Over three million aging seniors currently live with family members across the nation.
After my brother-in-law's death, an "a-ha" moment took place as we went forward to cope with these life changes. Sis and I decided to move in together with mother. We bought a new home in beautiful wine country in a little Victorian village with a population of about 25,000.
Not far from the sea, this friendly community offers many new opportunities for each of us. We are settling in, have found great resources including twice a week adult day care with transportation for mother (95). This provides a bit of respite for sis and I to explore volunteer and community activities.
It's never too late to dream new dreams, to develop new goals and ways to enjoy every hour of every day. Life goes on, inspires us to keep moving forward with the work-in-progress.
A recent venture to the coast brought up memories of the importance of the ocean throughout my life during the years I lived in Washington, Oregon, California, and Hawaii. The sea, its movement and hues tickle my writing juices, make me happy to be alive.
Island Scene In crescendo, a creative blow, wind rushing through swaying trees like a symphony at sea. Clouds puff, pile high ever so far up in the sky. A placid cerulean sea below seems to whisper, sigh. Rains pour forth, pound; create a chanting, drumming sound. Sun peeps through a golden glow, offering a different hue, producing a beautiful, radiant rainbow.
I have accepted the changes that confronted me. I am now well into the new adventures connected to my life's journey. I'm happy and I love what I'm doing.
This article appeared in the November 2010 issue of Northwest Prime Time, the Puget Sound region's monthly publication celebrating life after 50.