Programs and Organizations Serving Seniors
Puget Sound Communities Organize with Seniors in Mind South Sounders Say "Yes" to Seniors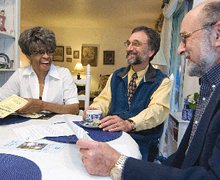 Nancy Tomlin was in her late 60s when her doctor told her to stop climbing ladders and hanging curtains for her posh interior decorating clients. Tomlin, the Virginia-born widow of an army sergeant, reluctantly accepted the wisdom of his advice. But, she asked, "What do I do then?"
The doctor hesitated, and then responded with an idea that set the Tacoma area grandmother of three off on a new career.
Tomlin has a Southern belle's knack for making conversation and has spent a lifetime caring for others—as a teenager in a family of 13, as a wife, and as a mother of four. The doctor asked her to be a companion to one of his elderly patients. Soon a nearby senior community discovered this was a woman who could make a game of cards far more enticing than an armchair date with The Bachelor—and her clientele grew.
"Some people just get involved in themselves and don't want to get up in the morning," Tomlin said. "I just wanted to do what I could to help them."
At age 73, that career, too, is now behind Tomlin, but the University Place resident has a new mission. She has joined a community forum in Tacoma, backed by the University of Puget Sound and several partners, that is pursuing an idea whose time has come.
Tomlin is a facilitator in a task force working on a program titled "Caring for Our Elders; Caring for Our Selves." The group is preparing a vision for Pierce County that will ultimately aim to ensure that all seniors live in comfort, in good company, and with the best health care and services possible.
The goal sounds radical, even to Tomlin. But with 78 million baby boomers starting to hit age 65 from next year, and the number of Americans older than 65 set to double to 20 percent of the population within two decades—we live in radical times.
America, which has long catered to the young, is about to be swamped with the needs of older adults. Yet it does not have to be this way, says forum co-organizer Dr. Stuart Farber. Seniors, he says, have a lot to give back. What we need is a model that makes them a vital and contributing part of the community, not dependents pushed to its edge.
"We're all walking backwards towards the end of life," Farber says. "It would be a lot easier if we turned around, acknowledged our own advancing age, and did what we could to ensure that all of our lives have quality and value right down to the finish line."
Farber, director of palliative care at the University of Washington Medical Center and associate professor in the School of Medicine, approached University of Puget Sound professor of economics Bruce Mann last year with his concerns. As director of the university's Civic Scholarship Initiative, which brings professors, students, and local residents together to solve community problems, Mann was able to offer support. He sees a significant change occurring across America—people want the choice to stay in place as they age.