Ideas for Cheap Northwest Adventures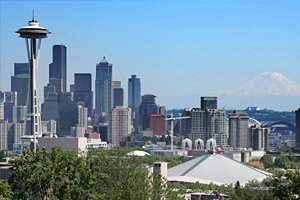 Details about many of the ideas below can be found by searching ct.visitseattle.org.
The summer festival season is upon us with something fun and free to do every weekend from now past Labor Day. In addition to large events such as Folklife, Bumbershoot, and county fairs, many small towns and neighborhoods get in on the action offering everything from outdoor movies, the Irrigation Festival in Sequim to logging jamborees in the North Cascades.
Summer offers free or cheap outdoor concerts and theater opportunities throughout the Puget Sound region. Seattleites can enjoy GreenStage in Volunteer Park www.greenstage.org/sotf, but contact your local Chamber of Commerce to learn of activities near you. With a little digging, you may be surprised at the number of free summer concerts you can find in the Northwest.
Many museums offer free days on the first Thursday of every month, or free days for Seniors.
Art walks abound throughout the northwest offering the chance to meet artists and have a glass of wine – for a calendar visit artguidenw.com
Artist studio tours offer a fun way to explore communities: for a calendar of art events visit artguidenw.com
Public libraries offer free lectures and other activities – check out your local library for ideas.
Larger bookstores have author readings – perhaps your chance to meet one of your favorite writers.
Don't forget that being a "tourist" in your own town can be a lot of fun – visit the Pike Place Market, ride the monorail, or splurge and take a trip to the top of the Space Needle.
Walking tours or window-shopping excursions to small towns, historic neighborhoods, or just seeing the sights in the "big city" can be fun and stimulating.
There is always something happening at the Seattle Center.
Take a tour at one of our many military bases in the region.
Take a tour of a Boeing Plant or Microsoft.
Watch passengers disembark from the huge cruise ships that dock in Seattle.
Opportunities for scenic drives abound – locate Washington State's Scenic Byways by visiting www.experiencewa.com
Washington's burgeoning win industry has created fun excursions and wine festivals, particularly in eastern Washington. Learn more at www.washingtonwine.org
It can be fun and economical to pick fresh fruit and vegetables – try it as a group outing. Check out www.pickyourown.org
Take in several of the neighborhood farmers' markets – they are usually colorful and festive, and some offer music and other activities in addition to fresh produce. www.wafarmersmarkets.com
Leave the car behind and take a ferry to Bainbridge Island or Bremerton with lots to see and do within walking distance.
Washington State's Art Commission offers audio tours you can take along on your car trips. The tours point out cultural heritage, scenic opportunities, and unusual facts you may not know about an area. Visit www.washingtonfolkarts.com
Book hotels in the off-season or mid-week for better rates (ski resorts can be fun in the summer; the ocean is exciting during winter storm season).
Visit expensive resorts and enjoy an appetizer in the bar – you'll feel that you've had a mini-vacation.
Youth hostels are not just for youth
Check out universities offering inexpensive dormitory stays and educational opportunities in summer months.
Some state parks offer lodging in historic homes or yurts – visit www.parks.wa.gov
In addition to fantastic state and national parks, many city and county parks are noteworthy, too. Make a list of "must-see" parks to visit this summer.
Chambers of Commerce and Visitor Centers are excellent sources of information for free or inexpensive things to do.
Have a fun and safe summer!
This article appeared in the May 2010 issue of Northwest Prime Time, the Puget Sound region's monthly publication celebrating life after 50.