Choose the Northwest for Your Retirement Haven
Jul 1, 2009, 11:09 a.m.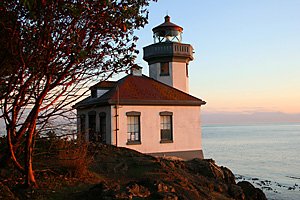 To find your ideal retirement location, you're going to have to do some research, says John Howells. He, along with noted travel author, Richard Harris, wrote the book on where to retire in the Northwest. Their revised guide, Choose the Pacific Northwest for Retirement, offers advice and recommendations, but they say that you should do your own ranking instead of relying on others' recommendations.
"It's best to start your retirement analysis early," says Howells. "A great way to do this is by combining research with your yearly vacation. Instead of visiting the same old place each year, try different [areas].
"Even if you are already retired, you need to do some traveling if you plan on moving somewhere else. Try to spend a few nights in each locality if at all possible. Rent a motel with kitchen facilities and see what it's like shopping, and imagine yourselves living there."
Check out real estate prices, says Howells. "Look into apartment and house rentals. You'll probably want to rent for a few months before making any final decisions. Does the community provide the kinds of cultural events you will enjoy? A cultural event could be anything from light opera to hoisting a glass of beer at the corner tavern. The question is, will you be happy you moved there? Just looking closely, as if you truly intended to move there, will tell you a lot."
Don't forget to drop in on the local senior center. "A dynamic and full-service senior center could make a world of difference in your everyday life," says Howells. Younger retirees take note – even if you're not now interested in senior centers, it is worthwhile to get acquainted for future reference.
"When investigating a town, one of your first stops should be at the local chamber of commerce office," adds Howells. "Most chamber offices love to see retirees move into their towns; they recognize the advantages of retirement money coming into the economy and the valuable contributions retirees can make to the community. These offices will do just about anything to help you get settled and to convince you that living in their town is next to paradise."
The Best Place to Retire
According to an online poll by Money Magazine, the top retirement destination is staying home. The second most popular option is relocating to be near adult children and grandchildren.
While most people plan to stay near their family and friends in the place they established deep roots, 50% of baby boomers will buy a different home in retirement than their current one, according to a Del Webb survey.
Pacific Northwest retirees have the best of both worlds; they can stay right here and still live in top-rated retirement destinations. With its mild climate, spectacular natural beauty, abundance of services and things to do, the Northwest consistently makes the grade and is listed amongst the nation's best places to retire.
What is the best place? Harris says, "When visiting a community, our research isn't limited to statistics and superficial descriptions of the town. We try to capture the flavor of what it might be like to become a member of the community." The bottom line is, he advises, there is no "best" place to retire that suits everyone. Selecting your ideal retirement home is a highly individual decision and depends on personal lifestyle, future aspirations and, most important, by what you consider to be an ideal quality of life.