Living Longer
Lessons for Living Longer from the People Who've Lived the Longest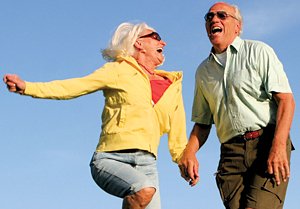 Here's some good news: The average American can look younger, feel younger and avoid about 70 percent of the things that foreshorten his or her life. Studies show that habits, as opposed to genes, determine up to 90 percent of life expectancy. Adopting the optimal lifestyle, experts say, can give us up to 10 more good years of life. But how?
Dan Buettner, author of the bestselling THE BLUE ZONES: Lessons for Living Longer from the People Who've Lived the Longest (National Geographic Books, 2008), wants to show you how.
The term "Blue Zone" originated in the highlands of Sardinia where a cluster of people enjoy extraordinary longevity—living to 100 years-old at a rate more than twice the average for the rest of Italy. Residents of Sardinia also suffer a fraction of the diseases that commonly kill people in other parts of the developed world. Scientists named this region and others like it "Blue Zones," or longevity hotspots. So far, in addition to the Barbagia region of Sardinia, Buettner has identified other Blue Zones include Okinawa, Japan, a community of Seventh Day Adventists in Loma Linda, Calif., and the Nicoya Peninsula in Costa Rica.
The project began when Buettner embarked with his team of demographers and scientists on what would become a massive, seven-year effort to identify and meticulously research the world's Blue Zones. Crossing the globe to uncover the extraordinary accounts of the oldest people on the planet, Buettner examines how their unique lifestyles correlate to their extraordinary longevity.
The Blue Zones examines the common threads amongst these diverse populations in order to develop a formula of the world's best practices in healthy longevity.
In his book Buettner introduces longevity all-stars like Ushi Ukushima, who grows most of her own food and is a frequent party hostess at 104 years old, Giovanni Sannai, who, at 103 beat Buettner in arm wrestling (for real!), and Dr. Ellsworth Wareham, a practicing surgeon who still performed open-heart surgery at 93.
Buettner writes, "It's not coincidence that the way these people eat, interact with each other, shed stress, heal themselves, avoid disease, and view their world yield them more good years of life. To learn from them, we need only to be open and ready to listen."
Buettner explains, "You will not find longevity in a bottle of diet pills or with hormone therapy, but by embracing this a la carte menu of a few simple but powerful habits, and by creating the right community around yourself." In THE BLUE ZONES, he blends his lifestyle formula with the latest longevity research to inspire lasting behavioral change and add years to your life.
THE BLUE ZONES also points readers to an online tool called the Vitality Compass which gives you a starting point against which to measure your longevity lifestyle. The Vitality Compass asks a series of questions and calculates 1) your potential life expectancy at your current age; 2) your healthy life-expectancy — the number of good years you can expect to live; 3) the number of extra years you are likely to gain if you optimize your lifestyle. It offers a customized list of suggestions to help you with that plan.
Buettner's methods are intended to help people put these practices to work in their own lives. In short, he aims to help everyone live within their personal "Blue Zone."
For more information about Dan Buettner and THE BLUE ZONES, visit www.bluezones.com.
This article appeared in the April 209 issue of Northwest Prime Time, the Puget Sound region's monthly publication celebrating life after 50.