Creative Aging Takes Hold in the Northwest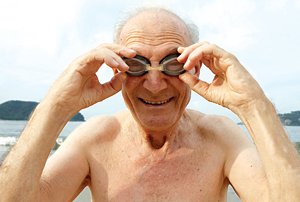 An innovative group based in Seattle is exploring what it means to grow older in our society. The Northwest Center for Creative Aging (NCCA) provides the opportunity to share life experiences, concerns about aging, and to learn from the wisdom of others.
Formed in 2007, NCCA is based on successful programs from around the country. It serves as a resource center for programs and activities related to creative aging. This past year NCCA events attracted hundreds of people from throughout the region. Participants gathered to talk about the experience of aging with a sense of purpose, adapting to changing circumstances, and maintaining deeper connections with the people in life who matter.
How did the Center begin? 65-year old Nancy Edquist explains that a spark of inspiration came when she read Creative Aging: A Meaning-Making Perspective, by Mary Baird Carlsen.
"I took a class on Aging Resources at Berkeley one summer week in the early 90's and one of the texts was Mary's book. I was so taken with the book and its theme that when I returned to Seattle I brazenly called her and asked for a time to meet her."
The author lived in Seattle. "She was gracious enough to agree to a breakfast meeting, and from that time forward we began to become colleagues and friends," says Nancy. "A few years later, when I became involved in the first attempt to start a creative aging initiative in the Seattle area, I learned that Mary had been a mentor to John Gibson." John, a consultant and life coach, had been using the term "successful aging" in workshops he led for his practice, Lifestyles by Design. John convened the first steering group for what would eventually become the Northwest Center for Creative Aging.
NCCA offers a range of programs, including facilitator training to lead small group discussions on creative aging topics.
"The vision has always been to empower conversations around creative aging and to provide thought-provoking, helpful resources," says Nancy. "It's exciting and humbling to be a facilitator of a group where participants 'bare their souls' in sharing struggles and hopes, discouragements," she adds. [There are] "many 'aha moments' as they see new perspectives and renewal of possibilities for living well into their aging adventures."
Carol Charles, NCCA executive director, agrees. "We bring together people of multiple generations to honor and learn from inspiring elders. It's exciting to see a new effort to link people together in ways that add purpose, meaning and quality to our aging selves. Our organization offers volunteers the chance to help develop a new organization in the Northwest."
The groups are small enough to allow sharing - from 8 to 15 persons, and generally meet for four to six sessions. "We've generated a lot of interest about our intentional conversation groups," reports Carol. "This is a unique program that we plan to 'seed' all over the area."
Sample questions from a recent discussion group include: What do you want to do with the rest of your life? In what way does life get better as we get older?