There's No Place Like Home!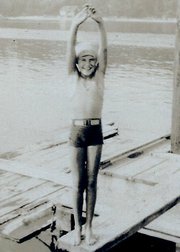 There's no place like Home, Washington and its past. Home City, located on the Key Peninsula in the waters of southern Puget Sound, was considered Utopia. The forward-thinking residents were simply way ahead of their time. Their cooperative land arrangements, views on freedom of speech, workplace conditions, equal rights, woman's suffrage, open religion, and even (oo la la!) nude swimming were heralded via community "alternative" publications - newspapers with names like New Era, Discontent, and Demonstrator.
Home City began with the Allen, Verity and Odell families purchasing 26 acres of land in 1896 on the northwest side of Key Peninsula's Von Geldern Cove. The families entrusted their original 26 acres to the newly incorporated "Home Mutual Association." Three years later, another family, Dadisman, added 64 acres. Newcomers were provided 2-acre plots, but ownership of the land belonged to the association. Home City families built a community of houses, stores, social halls, hotels, schools, post office, and a baseball grandstand. Residents traded goods grown in their gardens and on their farms. However, outsiders considered the Home group a "colony of anarchists."
In 1901, President McKinley was assassinated by a professed anarchist. With that, Tacoma newspapers set out to topple Home City. After court trials to uphold Home's freedom of speech, in 1921 the court dissolved the Home Mutual Association. Washington State law made cooperative land holdings illegal.
Life in Home – Past and Present
Eleen Greco, a descendent who grew up in Home City, recalled, "Every house was full of books. People talked all the time about important things; philosophy, socialism and every other kind of 'ism'. No subject was taboo."
Evelyn Evans and several other elders who grew up in Home City still live there. At 88 years old, she's independent, social and active, still drives and enjoys her close group of family and friends. Evelyn owns two acres, with her daughter residing on one of them. In fact, two of Evelyn's three children live in Home.
Evelyn is a direct descendent of Martin Van Buren Dadisman, her grandfather, who came from Virginia to join the three early settlers of Home City. She describes her childhood in Home as idyllic, where children could run, play and explore. But, she vividly recalls, "The neighbors told my dad if we kids got into mischief!" She lived with her mother, father and two siblings in two rooms adjoining the store that her dad owned. Her father also served as Justice of the Peace where he married couples and addressed the town's legal matters.
Evelyn's father, David Dadisman, was known for his gardens. "People still remember his wonderful sweet corn," recalls Evelyn.
Evelyn, too, delights in her small garden where she grows vegetables and flowers, admitting she's scaled it down quite a bit.
"Gardening keeps me in shape," she says.
In 1980, Evelyn and her husband, William David Evans, a former Boeing employee, moved from South Seattle back to Home where they built their retirement dream house. She describes her land as, "up on a hill, forested on two sides, with a beautiful view of Mt. Rainier and the water."